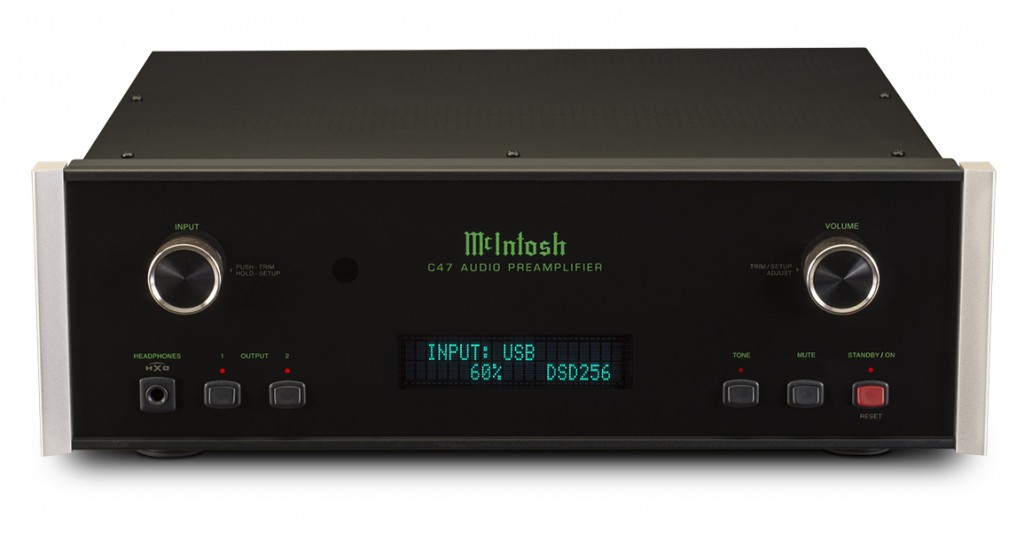 McIntosh C47 è il nuovo preamplificatore del marchio americano. La versatilità è il suo punto di forza: ingressi digitali, analogici e phono, uscite bilanciate, supporto al DSD. Non manca nulla.
Sono ben 12 gli ingressi del preamplificatore McIntosh C47: in pratica è possibile collegarvi qualsiasi cosa.
2 ingressi bilanciati, 3 sbilanciati, phono MM e phono MC, 4 ingressi digitali divisi tra 2 ottici + 1 coassiale + 1 USB: non manca proprio nulla.
Parlando degli ingressi digitali, insistono su un DAC di ultima generazione; gli ottici e i coassiali accettano segnali PCM fino a 24 bit/192 kHz, mentre via USB si potrà dargli in pasto segnali fino a 32 bit/384 kHz e DSD64, DSD128, DSD256, DXD 352.8kHz e DXD 384kHz.
Ma non è tutto. Il McIntosh C47 ha un ingresso MCT per collegarvi il lettore SuperAudio CD MCT450 della stessa azienda.
Gli ingressi sono liberamente configurabili dall'utente, così come le uscite possono essere riassegnate anche in funzione di una eventuale biamplificazione.
Il McIntosh C47 monta l'Headphone Crossfeed Director (HXD®), l'esclusivo sistema di collegamento per le cuffie, e può lavorare in modalità Home Theater Pass Through per l'integrazione con un sistema home theater​.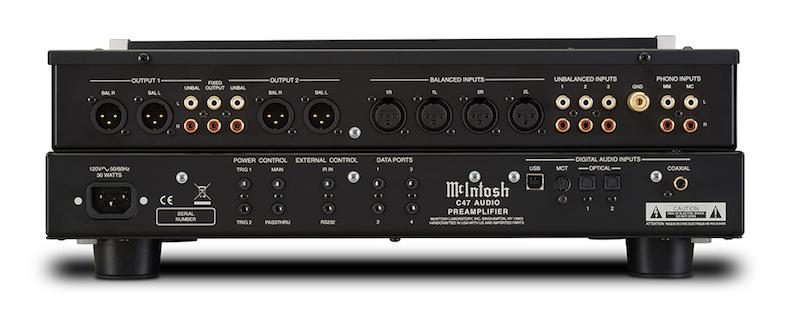 Caratteristiche tecniche premplificatore McIntosh C47
Thd 0.003%
• Frequency Response +0, -0.5Db From 20Hz To 20,000Hz; +0, -3Db From 10Hz To 100,000Hz
• Maximum Volts Out (Balanced / Unbalanced) 16/8 V Rms
• Input Impedance (Balanced / Unbalanced) 44K Ohm, 22K Ohm
• Phono Voltage Gain Moving Magnet: 40Db, Moving Coil: 60Db
• High Level Voltage Gain To Outputs 1 & 2: 15Db. To Fixed Output: 0Db
• Signal To Noise Ratio 100Db
• Headphone Output 1/4″, High Drive With Headphone Crossfeed Director (Hxd®)
• Inputs Balanced 2 Stereo
• Inputs Unbalanced 3 Stereo + 2 Phono
• Variable Outputs Balanced 2 Stereo
• Variable Outputs Unbalanced 2 Stereo
• Digital Usb Input 1 (Accepts Pcm Signals Up To 32-Bit/384Khz; Supports Dsd64, Dsd128 And Dsd256 Plus Dxd 352.8Khz And Dxd 384Khz)
• Digital Coaxial Input 1
• Digital Optical Input 2
• Digital Din (Sacd) Input 1
• Home Theater Pass Through Yes
• Tone Controls Bass And Treble
• Tone Bypass And Input Assig
• Rs232 Control Input
• Power Control Output 1 Main, 2 Trigger
• Rear Panel Data Ports 4
• Rear Panel Ir Sensor Input Yes
• On, Power Consumption 30 Watts
• Dimensions (W X H X D) 17.5″ (44.45Cm) X 6″ (15.2Cm) X 18″ (45.72Cm)
• Weight 10.4 Kg
Prezzo presunto: € 5.500
Produttore: McIntosh
Amazon Auto Links: Nessun prodotto trovato.