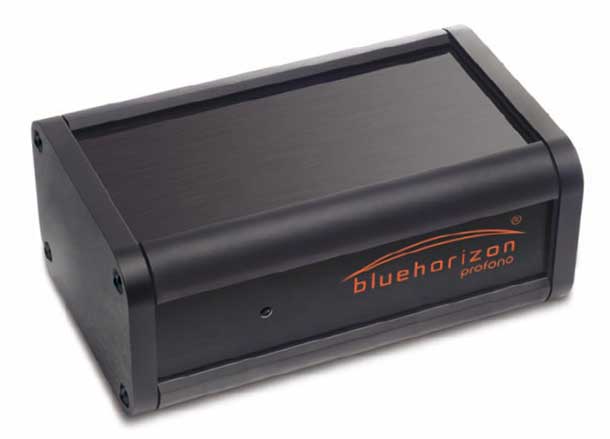 Bluehorizon Profono è un discreto pre phono di alta qualità. Se il vostro amplificatore non dispone di un ingresso phono o il vostro pre non ha uno stadio phono, oppure è di bassa qualità, ecco l'apparecchio che fa al caso vostro. Basta collegare al suo ingresso il cavo proveniente del braccio del vostro giradischi e la sua uscita, con un cavo stereo RCA,  all'ingresso aux del vostro pre o amplificatore integrato .
Ecco un nuovo pre phono di qualità hi-end ad un prezzo abbordabile. Spesso, gli amanti del vinile spendono somme ingenti per giradischi, braccio, testina, ma non si rendono conto che le prestazioni del loro giradischi sono fortemente limitate, se non si dispone di uno stadio phono adeguato.
Bluehorizon Profono, ad un prezzo altamente competitivo, è in grado di competere e persino superare, modelli dal costo doppio. Di dimensioni compatte e con un robusto case in alluminio, è dotato di alimentazione separata, per ridurre al minimo il rumore e la distorsione.
Un interruttore sul pannello posteriore del Profono dà la possibilità di scegliere tre valori di guadagno, secondo la testina usata: bobina mobile basso livello (50 dB), bobina mobile alto livello (61 dB) magnete mobile (41 dB). Ciò garantisce prestazioni ottimali con una vasta gamma di fonorivelatori.
Chiarezza, dettaglio, grande gamma dinamica, bassi profondi e alti dolcissimi, sono le principali caratteristiche di questo pre phono Bluehorizon Profono. È previsto, come upgrade successivo, un'alimentatore opzionale di alta qualità. Il Bluehorizon Profono è disponibile con finitura nera o silver, le sue dimensioni sono (170 x 70 x 105) mm e pesa 1 kg.
Produttore: BLUEHORIZON
Distributore: AUDIOGAMMA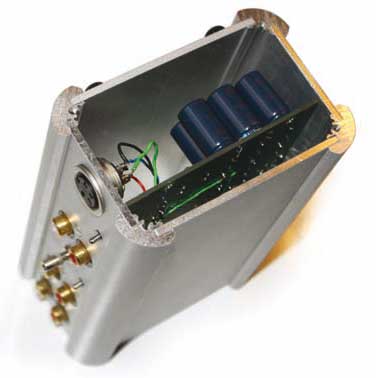 Amazon Auto Links: No products found.
Amazon Auto Links: Could not resolve the given unit type, . Please be sure to update the auto-insert definition if you have deleted the unit.