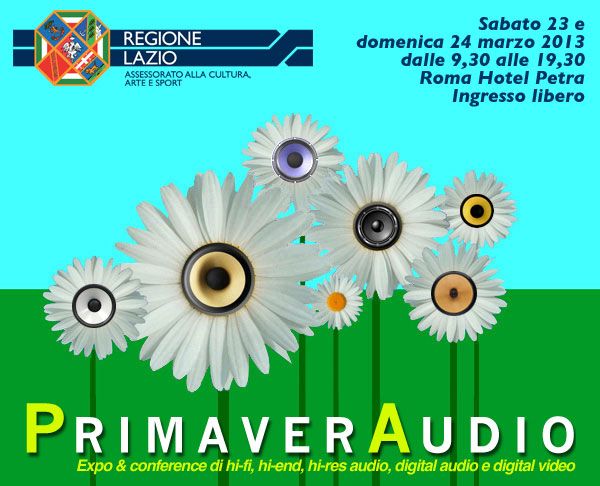 La prima edizione di PrimaverAudio, il nuovo expo romano di hi-fi, hi-end e nuove tecnologie, è già sulla bocca di tutti gli appassionati e degli operatore del settore.
Noi dell'organizzazione ci stiamo dando da fare come matti, l'ufficio stampa ha il telefono che scotta, molti operatori già ci hanno accordato la loro fiducia, i relatori dei seminari stanno già preparando le loro slide, tra gli audiofili cominciano a circolare voci insistenti sulla presenza di prestigiosi marchi assenti da Roma da almeno dieci anni.
Ma a noi non basta.
Come già sapete sin dall'ormai lontano luglio scorso, quando abbiamo ufficializzato la manifestazione, vogliamo farvi godere di ascolti raffinati e rutilanti spettacoli di intrattenimento multimediale in una location comoda e ben suonante, accendendo i riflettori sulle nuove tecnologie a servizio dell'audio.
Ma stavolta non saremo noi della solita accolita di ascoltoni. Vogliamo stare gomito a gomito con un pubblico nuovo, amante della musica, ma poco informato su come godersela al meglio.
L'ingresso sarà libero e a tutti i visitatori verrà offerto un omaggio esclusivo, non reperibile in commercio. Curiosi? Venite a Roma, presso l'hotel Petra il 23 e il 24 marzo 2013 per saperne di più.
La prossima non sarà una semplice primavera, sarà una PrimaverAudio.
www.primaveraudio.it/
Amazon Auto Links: No products found.
Amazon Auto Links: Could not resolve the given unit type, . Please be sure to update the auto-insert definition if you have deleted the unit.