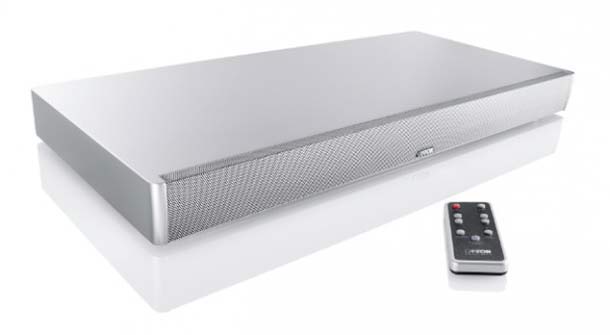 È sempre più facile – complice l'abbassamento dei prezzi – che nelle nostre case entrino televisori grandi, molto grandi. E un televisore grande ha bisogno di un grande soundbase. Come la Canton DM 75, che se la cava bene anche con la musica.
Ne abbiamo già parlato, ma repetita iuvat. Le soundbar e le soundbase sono divertenti, comode, semplici da usare e versatili. Ne approfittiamo anche per chiarire che una soundbase è fatta per ospitare sopra di essa una TV, mentre una soundbar non solo è indipendente, ma spesso e volentieri ha un subwoofer separato, mentre le prime ce l'hanno integrato.
La Canton DM 75 con i suoi quasi 73 centimetri di base è particolarmente indicata per posizionarsi sotto a televisori di dimensioni generose.
Delle sue dimensioni ne giovano anche i woofer, ben 4 da 10 centimetri di diametro ciascuno.  A fargli buona compagnia 2 tweeter da 1,9 cm e 2 midrange da 5 cm e un'uscita per un eventuale subwoofer aggiuntivo (l'effetto boom crash delle colonne sonore dei film ha sempre il suo fascino). Il tutto con un amplificatore interno in grado di erogare complessivamente 200 watt.
Tre gli ingressi disponibili, uno analogico e due digitali. Il Bluetooth con codec aptX rende davvero semplice il paring con uno smartphone, con tablet o un PC con trasmettitore adatto.
Davvero incredibile per godere al meglio film e trasmissioni televisive, la Canton DM 75 se la cava bene anche con musica sia in MP3 sia a qualità CD, assicurando una buona separazione fra i canali, bassi veloci e acuti cristallini.
Elementi negativi? L'assenza di una porta HDMI, peccato veniale (o no?) in una soundbase che si pone ai vertici qualitativi nella sua fascia di prezzo.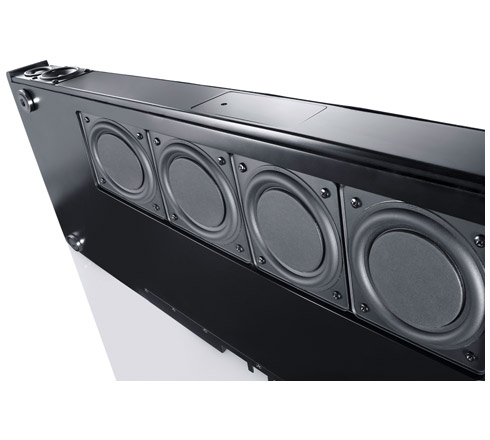 Caratteristiche tecniche soundbase Canton DM 75
2.1 Virtual Surround System
200 watts
Frequency response 35 ÷ 23.000 Hz
Crossover frequency 170 / 3.000 Hz
Woofer 4 x 100 mm (4")
Midrange 2 x 50 mm (2")
Tweeter 2 x 19 mm (1"), Fabric
1 analog Input (chinch)
1 Bluetooth® 4.0 interface (apt-X® codec)
1 digital Input (coaxial)
1 digital Input (optical)
1 Sub Out
bass and treble control
Dolby Digital decoder
DTS TruSurround™
Remote control
HDF-cabinet
integrated Subwoofer
LED Display
LipSync function for exact speech synchronization
Virtual surround sound & stereo playback
3 presets to adjust the acoustics to the setup location
simple one-cable installation – just one cable to your TV and one cable for power
HDF cabinet, bears a weight up to 40 kg (high density fiberboard)
wireless music transmission from your smartphone or Tablet-PC in CD-Quality via Bluetooth® Technology
controllable with TV-remote
Nominal Impedance 4-8 ohms
Dimensions (WxHxD) 72.5 x 6.95 x 32.0 cm
Weight 7.5 kg
Power consumption < 0.5 watt
Prezzo di listino: 570 €
Produttore: CANTON
SOUNDBAR O SOUNDBASE?