Il Cambridge Audio AXR100D è un amplificatore integrato con ingresso phono, ingressi digitali (anche senza fili) e radio DAB. Un ottimo modo per entrare nell'hi-fi dalla porta principale senza svenarsi.
Il Cambridge Audio AXR100D è un apparecchio che riflette in pieno la filosofia del produttore inglese, ovvero: buon suono, poche rinunce e componenti di buona qualità.
Siamo alle prese con un amplificatore integrato da 100 watt per canale su 8 Ω dotato di ingressi analogici (compreso il phono MM), digitali, Bluetooth e con in dote anche una radio DAB / DAB+ e FM.
In pratica, basta collegargli una coppia di diffusori e siamo già pronti per ascoltare musica (dalla radio o via Bluetooth), aggiungendo poi le altre sorgenti che desideriamo.
Estetica e costruzione del Cambridge Audio AXR100D
Angoli stondati come da tradizione di casa Cambridge, un piacevolissimo frontale di alluminio spazzolato e un display (un po' piccolino, a dirla tutta): sul pannello frontale la parte del padrone la fa la manopolona del volume, mentre il resto dei comandi è affidato a dei bottoni che restituiscono una buona sensazione di solidità.
Sul frontale pare passare in secondo piano ma è piacevolmente presente anche un'uscita cuffia con jack 'classico'.
Al piacevolissimo look and fell dell'amplificatore non fa buona compagnia il telecomando, robusto ma datato.
L'interno, molto ordinato, mette in luce l'adozione di componenti di buona qualità e di un trasformatore toroidale di generose dimensioni.
Ingressi e uscite
La lista degli ingressi è molto soddisfacente: 4 coppie di RCA compresa quella dedicata al giradischi con testina MM, 1 Coax, 2 Toslink. Gli ingressi digitali supportano segnali fino a 24bit e 192kHz. Ce n'è davvero per tutti. Non fatevi ingannare dalla porta USB: serve solo per gli aggiornamenti firmware.
2 le coppie di altoparlanti collegabili (anche in bi-wiring) e conforta trovare anche l'uscita dedicata ad un eventuale subwoofer.
Il ricevitore Bluetooth integrato è di tipo A2DP/AVRCP e SBC, ma su questo magari ritorneremo fra poco, quando parleremo delle note d'ascolto.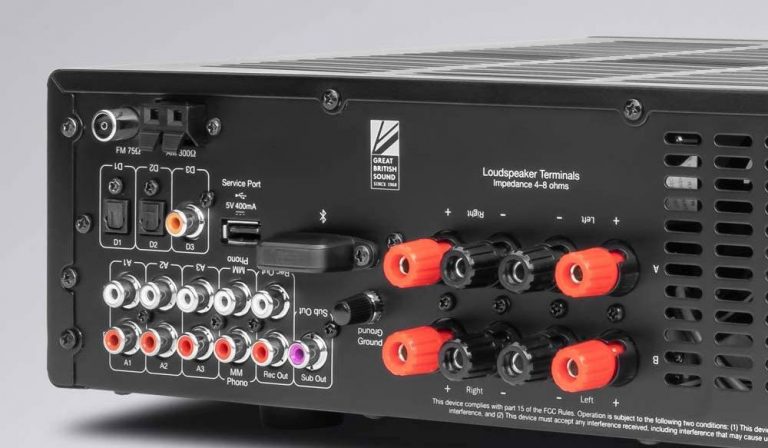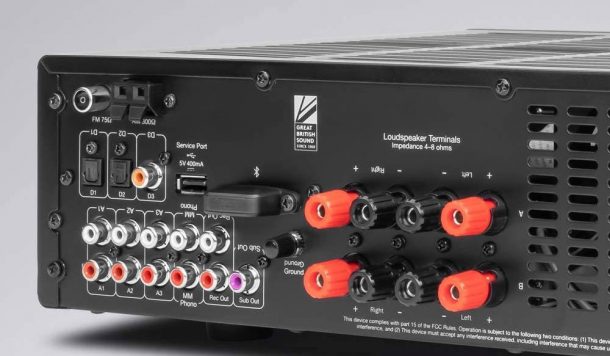 Come suona
Il Cambridge Audio AXR100D alla prova d'ascolto non delude. Premesso che siamo alle prese con un prodotto dal budget richiesto non certo esoso (anzi), questo amplificatore si difende benissimo complice un suono caldo e un ottimo equilibrio un po' con tutti i generi musicali.
Quello che balza subito all'orecchio è il suono di un amplificatore squisitamente british, ovvero senza eccessi e con un suono morbido e accogliente, privo di qualsiasi asperità.
Ma.
Se quanto detto vale con un po' tutti i generi musicali e praticamente con qualsiasi ingresso, il discorso cambia quando si passa al ricevitore Bluetooth. I denigratori di questo tipo di connessione troveranno ragioni per… continuare a denigrare. Pur con tutti i limiti di questo protocollo di trasmissione senza fili, senza dubbio qui si poteva fare di meglio.
Conclusioni
A fronte dell'impegno economico richiesto e della completezza dell'apparecchio, ci troviamo di fronte a un probabile best buy, a patto di accontentarsi del minimo sindacale per quanto riguarda il Bluetooth; usato con qualsiasi altro ingresso, questo amplificatore non farà rimpiangere realizzazioni ben più costose.
Caratteristiche tecniche amplificatore con DAC e sintonizzatore DAB Cambridge Audio AXR100D
POWER OUTPUT 100 watts (into 8Ω)
THD (UNWEIGHTED) <0.01% @ 1kHz, 80% of rated power <0.15% 20Hz – 20kHz, 80% of rated power
FREQUENCY RESPONSE (-1DB) 5Hz – 50kHz
S/N RATIO (REF 1W) >82dB (unweighted)
INPUT IMPEDANCES 47k ohms
POWER AMP DAMPING FACTOR >50
STANDBY POWER CONSUMPTION <0.5W
MAX. POWER CONSUMPTION 550W
BASS/TREBLE CONTROLS Shelving, ultimate boost/cut +/- 10dB @ 100Hz and 20kHz
SUBWOOFER OUTPUT 200Hz 2nd order L+R Level follows volume setting
DIGITAL INPUTS PCM 16-24bit S/P DIF Co-axial 32-192kHz TOSlink Optical 32-192kHz
BLUETOOTH 5.0 A2DP/AVRCP supporting SBC
TUNER BANDS European DAB (174.928-239.200kHz) FM (87.5-108MHz)
AERIAL INPUTS FM/DAB+ 75 ohms, Coaxial antenna
SIGNAL TO NOISE (TUNER) 60dB typical (FM) / 90dB typical (DAB)
DISTORTION (TUNER) <0.4% @ 1kHz 50kHz deviation (FM mono) / <0.05% @ 1kHz (DAB)
DIMENSIONS 110 x 430 x 340mm (4.3 x 16.9 x 13.4")
WEIGHT 8.1kg (17.8lbs)
Come realizzare un impianto hi-fi senza rinunce e con meno di 1.300 euro
Partendo proprio dal Cambridge Audio AXR100D, aggiungiamo una coppia di casse, un lettore CD e un giradischi.
Ecco alcune proposte.
Volendo rimanere in Gran Bretagna, le casse acustiche Cambridge Audio SX-60 daranno ottimi risultati soprattutto in ambito rock, elettronica e in tutti i generi più moderno. Il woofer da 16,5 cm si fa sentire eccome e il punch darà grandi soddisfazioni.
Con pochi euro in più si passa a qualcosa di molto più brillante sugli acuti, ovvero le Klipsch R-51M, capaci di riprodurre in dimensioni compatte il tipico suono della casa americana.
Capaci di dare grandi soddisfazioni con un po' tutti i generi musicali e senza nessuna esuberanza particolare sono le B&W 607, che non hanno bisogno di grandi presentazioni.
Molto più semplici da posizionare grazie al bass reflex anteriore (e personalmente le mie preferite in abbinata a questo Cambridge) sono le Focal Chora 806.
Come sorgente ho pensato al giradischi Pro-Ject Elemental e al lettore CD robusto e ben suonante Teac CD-P650 (che registra anche i CD su pen drive, operazione molto comoda per 'portarsi' i CD 'liquefatti' in auto).