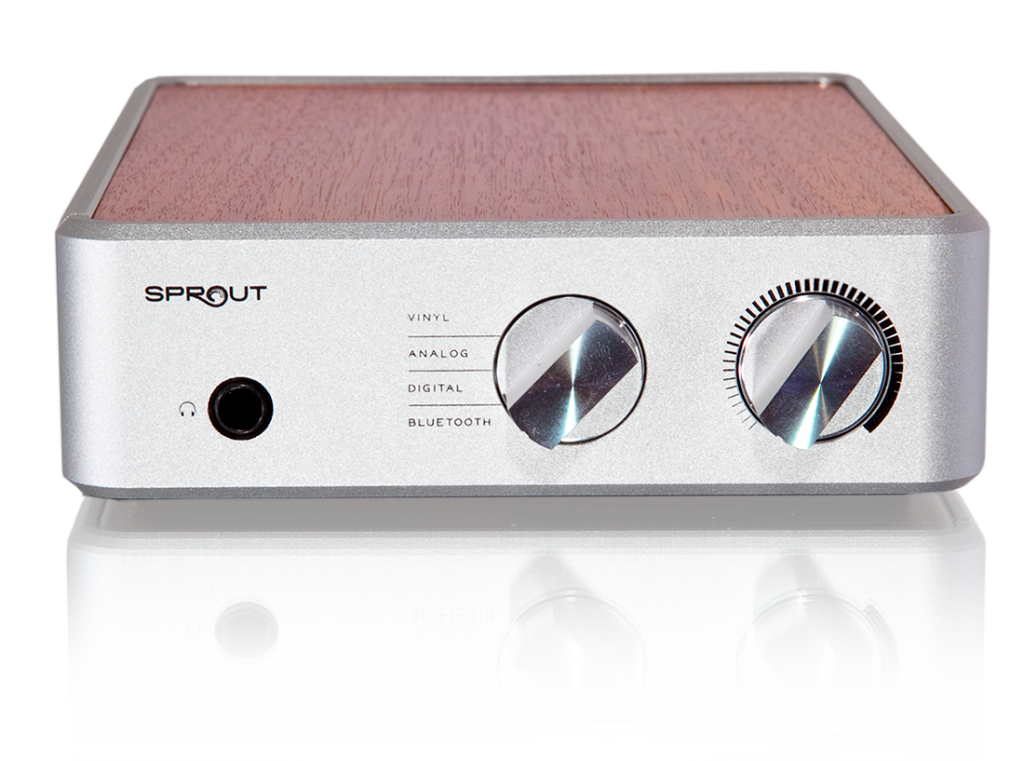 Ha più di una vocazione il PS Audio Sprout: amplificatore integrato per piccoli ambienti, preamplificatore, DAC, amplificatore per cuffie. E un prezzo ragionevole.
Continua la saga degli apparecchi che mettono in difficoltà la nostra tassonomia (di per sé già sin troppo corposa).
Il PS Audio Sprout sembra "solo" un pre con ampli per cuffie, ma è anche e sopratutto un DAC e un piccolo amplificatore integrato.
La filosofia di partenza di questo "piccoletto" è proprio quella di offrire un apparecchio versatile, ben suonante, a un prezzo ragionevole.
Complice un'estetica accattivante e un'ergonomia davvero ben studiata, monta a bordo uno stadio pre-phono, fianco a fianco con un ricevitore Bluetooth (il vecchio e il nuovo della riproduzione musicale), un discreto numero di ingressi sia analogici e sia digitale e un cuore pulsante affidato a un DAC per l'Hi-Res Audio.
Ma scendiamo più in dettaglio.
Complice la nuova moda (effimera?) del ritorno al vinile, il PS Audio Sprout monta nella sua sezione pre-phono due stage di guadagno ad alta velocità e con equalizzazione passiva.
Il DAC integrato è un Wolfson di tipo asincrono e con un modulatore sigma-delta ad alta precisione; supporta i canonici 24/192.
Non dimentichiamo che il PS Audio Sprout è anche un amplificatore integrato: sono 32 i watt a disposizione su 8 Ohm e 50 su 4.
Lo smartphone è sempre più il player preferito dai giovani e giovani-adulti. Il ricevitore Blueetooth qui è integrato e fa lavorare il DAC in upsampling.
Il PS Audio Sprout può anche pilotare un subwoofer, oltre a due coppie di casse. L'amplificatore per cuffia vanta una impedenza vicina allo zero.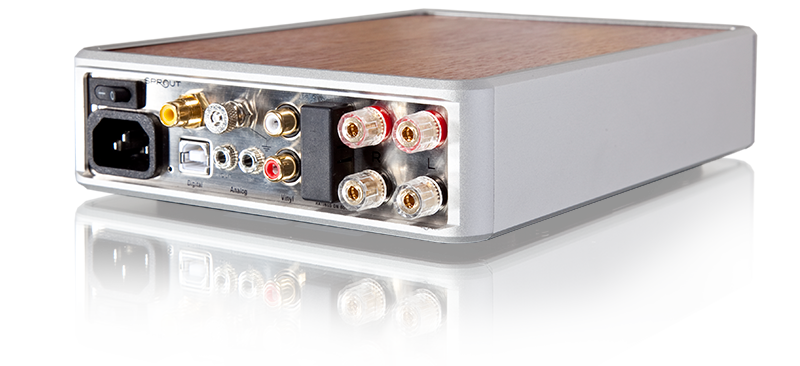 Caratteristiche tecniche amplificatore con DAC PS Audio Sprout
Unit Weight 2.9 lbs
Unit Dimensions 6" x 8" x 1.75"
Input Power Model specific 120 V AC, or 230 V AC 50 or 60 Hz
Power Consumption <10 W idle, 125 W maximum
Phono Audio Input
Connector: 2 x RCA
Cartridge type: Moving Magnet
Cartridge Output (5 cm/s): 2 mV to 50 mV
Cartridge load impedance: 47 KΩ (100 pF)
Equivalent Input Noise: <1.6 µV
S/N ratio: >80 dB (@analog output, ref 4 V RMS maximum output)
Analog Audio Inputs
Connector: 3.5 mm stereo input
Input level: 2.0 V RMS (+6 dBV)
Input impedance: 10 KΩ
Analog Audio Output
Connector 3.5 mm stereo connector can be used for subwoofer or amplifier feeds
Output level, nominal (@ rated cartridge input): 1.0 V (0 dBV) with 5 mV cartridge at reference level (volume at 100%)
Output level: maximum 4.0 V RMS (+12 dBV) maximum, Full scale digital or vinyl at +12 dB over reference (volume at 100%)
Output Impedance: 220 Ω
S/N ratio: >94 dB (@analog output, ref 4 V RMS maximum output)
THD (power amp): <0.03% (1 W 50 Hz-10 KHz), <0.1% at rated power, 1 KHz, 120 V AC mains
S/PDIF Digital Input
Connector RCA (Coax)
Impedance: 75 Ω
Format: PCM
USB Input
Connector USB "B" Type
Format: PCM
Transfer mode Asynchronous
S/N ratio digital >102dB (@analog output, ref 4VRMS maximum output)
Bluetooth
Antenna Built in
DAC Uses Sprout's built in asynchronous DAC over S/PDIF
Stereo Power Amplifier Output
8 Ω loudspeakers connected 32 watts per channel, both channels driven
4 Ω loudspeakers connected 50 watts per channel, both channels driven
Headphone Output Power
16 Ω headphones 1 W (1 KHz, 1% THD)
300 Ω headphones connected 200 mW (1 KHz, <0.03% THD)
Headphone Output Impedance: from 10 Hz to 10 kHz <0.3 Ohm
Prezzo in Rete: 800 USD
Produttore: PS AUDIO
Amazon Auto Links: No products found.
Amazon Auto Links: Could not resolve the given unit type, . Please be sure to update the auto-insert definition if you have deleted the unit.