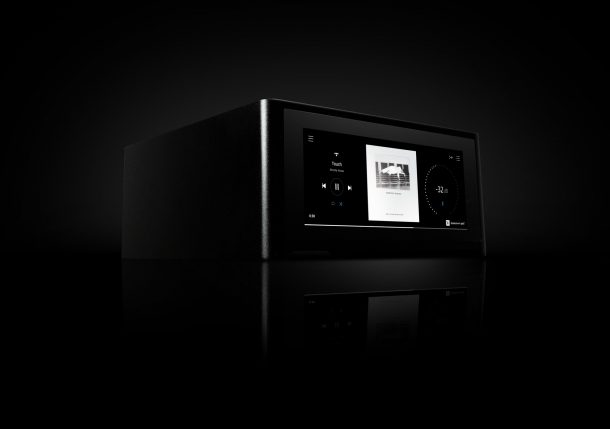 Il NAD Masters Series M10 è un amplificatore con streamer con prestazioni brillanti in ognuno dei suoi due ambiti principali.
Il NAD Masters Series M10 potrebbe far storcere il naso agli audiofili duri e puri di casa nostra, così poco propensi ad apparecchi all in one e/o multifunzione.
E invece il mondo dell'HiFi ovunque sta andando verso una certa semplificazione, verso apparecchi che lasciano l'utilizzatore di godere della musica senza troppe complicazioni.
Ad ogni modo, il NAD Masters Series M10 è un amplificatore con streamer basato sul sistema BluOS, da molti indicato come il migliore sistema operativo per network player, dato che è concepito come un software che va braccetto con certi determinati hardware.
BluOS è ovviamente pronto per il multi-room wireless, supporta lo standard MQA e 15 servizi di streaming, oltre che librerie di file in locale.
Manco a dirlo, BluOS ha un app dedicata per la completa gestione via WiFi.
Il tutto è gestito a un potente microprocessore di nuova generazione, il Cortex A9, in buona compagnia di un DAC ESS Sabre a 32 bit e 384 KhZ.
Ai tradizionali ingressi analogici questo amplificatore affianca Toslink, USB, Coax, AirPlay e Bluetooth.
L'estetica del NAD Masters Series M10 è curatissima e spiccano la costruzione dello chassis, in alluminio, il grande display a colori e le finiture in vetro sfumato.
Gli stadi finali del NAD Masters Series M10 sono di tipo ibrido, precisamente afferenti a una tecnologia che il produttore chiama HybridDigital e che ha già ampiamente sperimentato.
Gli stadi di amplificazione sono denominati Hypex nCore e la promessa è quella di avere performances allo stato dell'arte e allo stesso tempo una estrema facilità nel pilotare anche i diffusori più ostici.
Gli assistenti vocali fanno e faranno sempre di più parte delle nostre vite; il NAD Masters Series M10 può essere controllato vocalmente con Alexa!
In tanti ormai preferiscono evitare le complicazioni di un impianto multicanale (o semplicemente di evitare conflitti familiari per i troppi cavi in giro per casa) e affidano all'impianto stereo principale anche il compito di sonorizzare i film e i programmi televisivi. E quindi stanno sempre di più arrivando sul mercato amplificatori con la presa HDMI eArc, come anche il NAD Masters Series M10.
Del NAD Masters Series M10 abbiamo apprezzato la vigorosità dei suoi 100 watt per canale e la neutralità del suono, ma in un amplificatore di questo livello affidare tutto all'app (senza un telecomando in dotazione) ci pare forse esagerato. O forse è solo un segno dei tempi.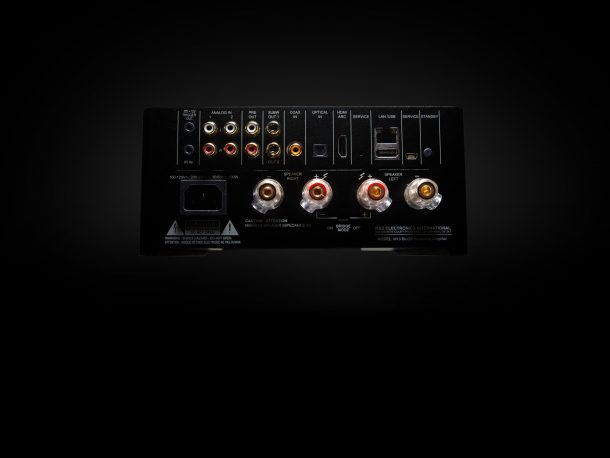 Caratteristiche tecniche amplificatore ibrido con streamer NAD Masters Series M10
BluOS Streaming Amplifier
HybridDigital nCore Amplifier
Continuous Power: 100W into 8/4 Ohms
Dynamic Power: 160W into 8 Ohms 300W into 4 Ohms
32-BIT/384kHz ESS Sabre DAC
1GHz ARM® CORTEX A9 Processor
Dirac Live Room Correction
Color TFT display
Supports Amazon Alexa Voice Control Skills
AirPlay 2 Integration
Supports Siri Voice Assistant via AirPlay 2
Two-way Qualcomm aptX HD Bluetooth
NFC Bluetooth pairing for compatible smart devices
BluOS multi-room compatible
Gigabit Ethernet
HDMI eARC, USB Type A Input
Stereo Line Inputs, Coax/Optical Inputs
Preamp Output, Dual Mono Subwoofer Outputs
IR Input, 12V Trigger Out
Apps for iOS, Android, Mac OS, Windows,
Crestron, Control4, RTI, URC, Elan, Lutron,
iPort
Wide variety of premium music services supported in App, including Amazon, Spotify,
Tidal, TuneIn, Napster, Deezer, Qobuz and any others
Amazon Auto Links: No products found.
Amazon Auto Links: Could not resolve the given unit type, . Please be sure to update the auto-insert definition if you have deleted the unit.