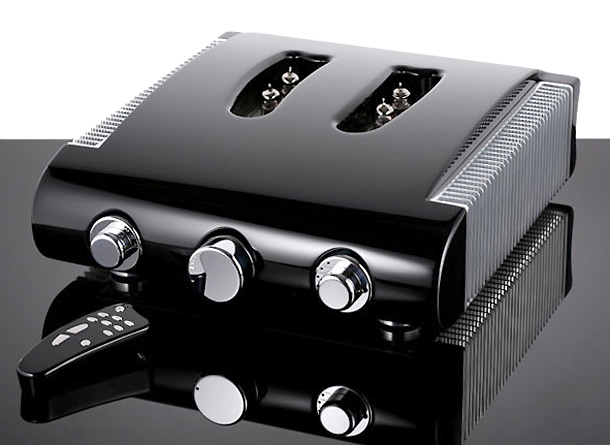 Absoluta Sound and Space Partenope è un amplificatore integrato ibrido che, come tutti i prodotti Absoluta, è dotato di un guscio esterno rimovibile, che può essere facilmente sostituito per adattare il look dell'amplificatore allo stile dell'arredamento, o al gusto del proprietario.
L'amplificatore Absoluta Sound and Space Partenope è disponibile in diverse finiture standard. Oltre a queste il cliente può richiedere versioni personalizzate, scegliendo tra diversi materiali e colori.
Tra alcune realizzazioni (vedi foto), un guscio è stato dipinto a mano da un artista, con colpi di vernice acrilica e alcune linee di pigmento luminescente.
Con queste versioni personalizzate si sfruttano le potenzialità del versatile telaio dell'amplificatore Partenope, per trasformarlo, non solo in un bell'oggetto, ma in un dipinto o in una vera e propria opera d'arte.
Attenzione ai dettagli, passione per la qualità e innovazione, Absoluta Sound and Space la riserva anche alle circuitazioni.
L'amplificatore Absoluta Sound and Space Partenope è un'unità completa e potente dotata di stadio phono, caratterizzato da basso rumore. Il guadagno e l'impedenza di ingresso phono MM e MC permette un'ampia gamma di possibilità d'interfacciamento su entrambe le configurazioni.
La sezione pre dell'amplificatore consente il controllo del volume, la selezione d'ingresso, l'attivazione e la disattivazione del muting e la scelta della fase del segnale. L'amplificatore Absoluta Sound and Space Partenope è dotato di un ingresso phono, quattro linea e uno bilanciato e la sezione pre può essere separata dallo stadio di potenza.
La sezione di potenza del Partenope utilizza due canali completamente separati da un processore, per ottimizzare l'erogazione di potenza. Si tratta di 100 W rms per canale su 8 ohm e fino a 270 W rms continui per canale su 2 ohm. Questa sezione di potenza è fornita di circuito di protezione.
Per l'alimentazione l'amplificatore Absoluta Sound and Space Partenope usa due trasformatori toroidali da 350 VA ciascuno a larga banda e bassa dispersione di flusso più dieci regolatori di tensione separati, uno per la tensione anodica dei tubi e uno per i filamenti.
La sezione di controllo utilizza un microcontrollore che, oltre a gestire tutte le funzioni dell'amplificatore, è in collegamento diretto con le protezioni dello stadio finale e di tutti i circuiti di lettura, delle uscite del pre, del finale di potenza e dei trigger di ingresso e uscita.
Caratteristiche tecniche amplificatore integrato Absoluta Sound and Space Partenope
Potenza in uscita: 
73 W p.c. @ 8 Ohm, 0,3% THD; 125 W p.c. @ 4 Ohm, 
0,3% THD; 195 W p.c. 
@ 2 Ohm, 0,3% THD
Guadagno stadio finale: 
26 dB
Risposta in frequenza
: 3 Hz ÷ 2 MHz (±3 dB)
Rumore di fondo
: –89 dBV (lineare, 0-30 kHz)
Rapporto segnale/rumore: 
116 dB (lineare, 0-30 kHz)

 THD
 0,02%

Ingressi: phono
 MM/MC, linea single-ended (4), linea bilanciato
Uscite: linea
 single ended, linea bilanciata, tape out
Tensione massima di uscita
: 3,5 V rms
Guadagno: 12 dB
Risposta in frequenza: 3 Hz ÷ 350 kHz (@ 1 V rms all'uscita pre)
Rumore di fondo: -90 dBV (lineare, 0-30 kHz)
Rapporto segnale/rumore: 102 dB (lineare, 0-30 kHz)
THD: 0,04% (@ 3,5 V rms)
Impedenza di uscita: 80 Ohm (single-ended); 160 Ohm (bilanciata)
Guadagno stadio phono: 40 dB (@ 1 kHz, MM); 60 dB (@ 1 kHz, MC)
Risposta in frequenza: RIAA ±0,5 dB; (16 Hz÷30 kHz)
Rapporto segnale/rumore: 82 dB (lineare, 0-30 kHz, MM); 76 dB (lineare, 0-30 kHz, MC)
Impedenza di ingresso: 47 kOhm (MM); 100 Ohm (MC)
Alimentazione: 115 V o 230 V, 50-60 Hz
Assorbimento: 700 VA
Peso: 28 Kg
Produttore: ABSOLUTA SOUND AND SPACE