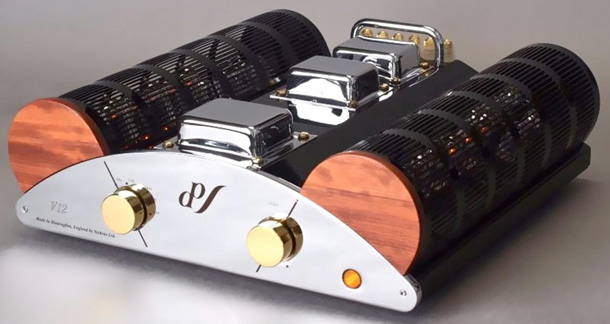 L'amplificatore  EAR-Yoshino V12, nato da un'idea di Tim de Paravicini, è un concetto completamente nuovo nella progettazione degli amplificatori a valvole… Qui è stata dimenticata ogni convenzione.
Nell'amplificatore EAR-Yoshino V12 le valvole di uscita sono 12 (6 per canale EL84/6BQ5). Si tratta di un parallelo push-pull in classe A e in modalità pentodo. Questo circuito fornisce una linearità superba e una bassissima distorsione. Inoltre, l'amplificatore V12 è stato sviluppato modalità Balanced Bridge, con un trasformatore di uscita dalla larghezza di banda ultra-larga e nessun feedback complessivo.
L'amplificatore è un 50 watt per canale e dispone di 5 ingressi linea.
Gli obiettivi di progettazione principali per l'amplificatore V12 erano di estendere la risposta in frequenza ad entrambe le estremità dello spettro, migliorare i dettagli a basso livello e fornire un accoppiamento ampli/diffusore perfetto. Infatti, il V12 è perfettamente stabile con qualsiasi carico (4 ÷ 16 ohm).
Il circuito non è la sola caratteristica che fa unico questo amplificatore V12, lo è anche il design del case, meno aggressivo rispetto ai modelli tradizionali. Le linee sono arrotondate, a forma di mezza luna, sia i contenitori delle valvole, (canale sinistro e destro) posizionati ai lati, nella parte superiore, sia il pannello frontale.
Cromature e placcature in oro completano le rifiniture.
Una piccola curiosità: il nome V12 è stato ispirato dalla passione di Tim per il classico motore Jaguar V12.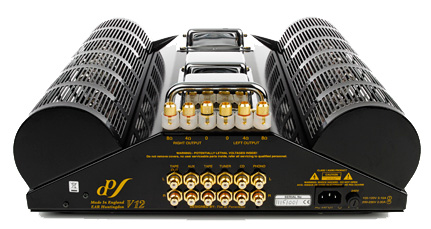 Caratteristiche tecniche amplificatore integrato EAR-Yoshino V12
Power Output: 50 watts per channels 20Hz to 20 KHz
Power Bandwidth: 12Hz-60 KHz -3dB (half power)
I.M.D: less than 0.5%
Output Damping Factor: 10
Signal to Noise Ratio: 93 dB (less than 0.4 mv)
Input Sensitivity: 400 mV
Input Impedance: 47 kOhms
Power Consumption: 200 V/A
Weight: 22 kg
Size: 42 (W) x 44 (D) x 13.5 (H) cm
Valve: 10 x ECC83 (12AX7), 12 x EL84 (6BQ5)
Prezzo: 9.835 euro
Produttore: E.A.R. YOSHINO
Distributore: DML AUDIO
Amazon Auto Links: No products found.
Amazon Auto Links: Could not resolve the given unit type, . Please be sure to update the auto-insert definition if you have deleted the unit.