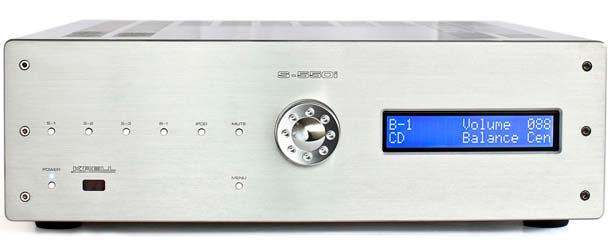 L'americana Krell vuole bissare il successo planetario del modello precedente e propone il modello S-550i, un amplificatore che con i suoi 275 watt per canale non teme nessuna cassa acustica.
Qualità del suono e grande riserva di potenza: sono le linea guida alla base del progetto dell'amplificatore integrato Krell S-550i, in grado di pilotare anche i diffusori più critici conservando il massimo delle prestazioni.
Quest'amplificatore è fatto sia pensando all'audiofilo integralista, sia a… suo figlio o agli appassionati di nuova generazione, oppure a chi più semplicemente si gode le nuove tecnologie senza riserve. Il Krell S-550i, infatti, è dotato di ingressi bilanciati e sbilanciati, dock per iPod, e la modalità Theater Throughput ™ . Sviluppato da Krell, Theater Throughput ™ semplifica l'integrazione in sistemi di home theater. Parametri operativi possono essere personalizzati tramite il sistema di menu che è accessibile dal pannello anteriore o attraverso il telecomando, anch'esso in alluminio spazzolato.
La sezione pre del Krell S-550i è dotata della stessa circuitazione dei top di gamma dell'azienda americana, il balsonati Phantom che, con il loro Current Mode, forniscono larghezza di banda ineguagliabile per la riproduzione di sorgenti musicali ad alta risoluzione.
La tecnologia degli stadi finali è anch'essa proprietaria di casa Krell e il risultato, al di là delle sigle di fantasia con cui queste soluzioni sono solitamente denominate, in questo caso il risultato è in termini di distorsione, tipicamente inferiore allo 0,003% .
Ciliegina sulla torta, il controllo del volume è realizzato con una resistenza di scala ed è indipendente dalla parte pre.
Il Krell S-550i monta un massiccio trasformatore da 1.750 watt e 68.000 uF di capacità che fornisce la corrente necessaria alla circuitazione a componenti discreti che è stata scelta per questo amplificatore.
Di watt ce ne sono anche di riserva, dato che quest'ampli è capace di erogarne 275 watt su 8 ohm e 550 watt su 4 ohm.

Caratteristiche tecniche amplificatore integrato Krell S-550i
Ingressi: XLR, RCA, 30-pin per iPod
Uscite: pre-out RCA, speakers con connettori placcati oro
Ingresso di controllo: 1xRS-232
Telecomando: in dotazione
Impedenza di ingresso: bilanciata 95 kΩ, single-ended: 47.5 kΩ
Risposta in frequenza: 20 Hz to 20 kHz +0, -0.08 dB; <2 Hz to 140 kHz +0, -3 dB
Rapporto segnale/rumore >96 dB, "A"-weighted
Guadagno: 32.0 dB
THD: <0.025% at 1 kHz, at 275 W, 8 Ω load; <0.20% at 20 kHz, at 275 W, 8 Ω load
Potenza d'uscita: 275 W RMS per canale a 8 Ω; 550 W RMS per canale a 4 Ω
Damping factor: >110 at 20 Hz, referred to 8 Ω; >75, 20 Hz to 20 kHz, referred to 8 Ω
Prezzo su strada: circa 6.000 euro
Produttore: KRELL INDUSTRIES
Distributore: AUDIO NATALI
Amazon Auto Links: No products found.