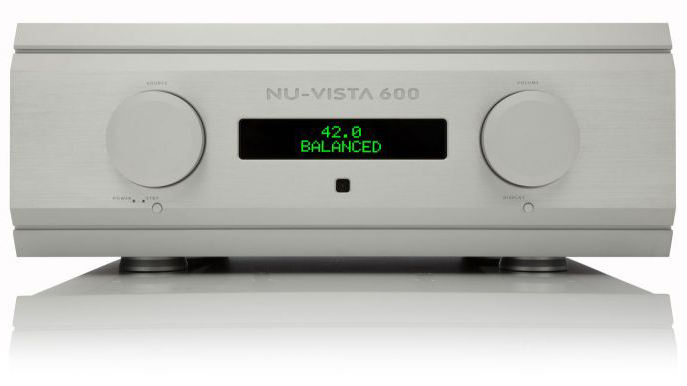 Musical Fidelity Nu-Vista 600 è il nuovo amplificatore integrato che affianca, semplificandolo, il top di gamma Nu-Vista 800. È meno potente, ma della stessa levatura.
L'integrato Musical Fidelity Nu-Vista 800, da molti, è considerato uno dei migliori del Pianeta: 2 x 330 watt su 8 ohm, una potenza mostruosa a 11.500 euro. La sua versione semplificata si chiama Musical Fidelity Nu-Vista 600, e come potenza non scherza nemmeno lui, 2 x 200 watt sempre su 8 ohm, 7.500 euro.
Intendiamoci, siamo sempre in una fascia alta di prezzo, infatti, a parte la potenza erogata, la qualità è la stessa del Nu-Vista 800: erogazione di corrente istantanea, che gli permette di pilotare facilmente qualsiasi diffusore, configurazione Dual Mono a partire dai doppi trasformatori da 1 Kw ognuno e impiego di valvole Nuvistor, per conferire alla sua potenza una calda tonalità.
Bassa distorsione, altissimo rapporto segnale/rumore, risposta in frequenza ultralineare. Oltre alla potenza, semplificazioni sono state apportate sullo chassis, privo di parti in rame e sul numero dei semiconduttori finali, che è inferiore al Nu-Vista 800. La finitura è Silver, ma su richiesta si può avere anche in Black.
La dotazione comprende 4 ingressi linea RCA, 1 ingresso XLR, uscita pre-out, controllo del volume digitale, doppi morsetti d'uscita per bi-wiring, display per la visualizzazione della sorgente e del livello volume. Infine, il pannello frontale, realizzato in alluminio ricavato dal pieno.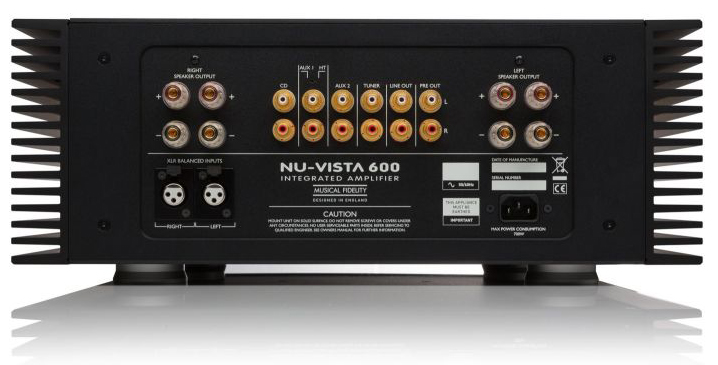 Caratteristiche amplificatore integrato Musical Fidelity Nu-Vista 600
Amplifier
• Power output: 220 Watts per channel into 8 Ohms
• THD (+ noise): 103 dB 'A' – weighted
• Frequency Response: +0, –0.1 dB, 10 Hz to 30 kHz
Inputs
• 4 x Line Level RCA / Phono
• 1 x Line Level XLR Balanced
Outputs
• 1 pair line level RCA connectors, constant level Line outputs
• 1 pair line level RCA connectors, preamp outputs for e.g. bi-amping
General
• Dimensions – WxHxD (mm): 483 x 187* x 510
• *212 mm on included optional pointed feet
• Weight (unpacked / packed): 34 kg/ 45 kg
Produttore: MUSICAL FIDELITY
Amazon Auto Links: No products found.
Amazon Auto Links: Could not resolve the given unit type, . Please be sure to update the auto-insert definition if you have deleted the unit.