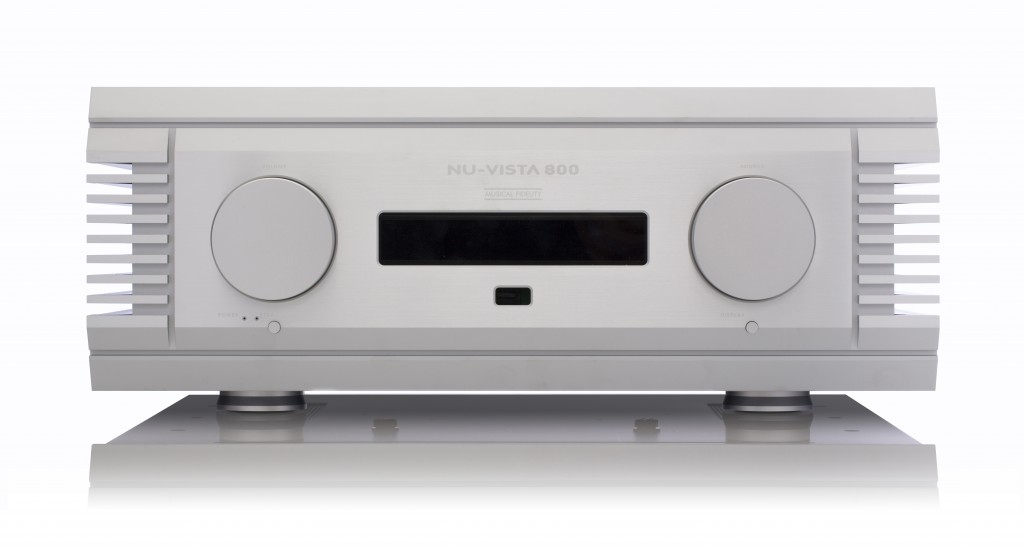 Con i suoi 325 watt per canale e una costruzione senza compromessi, il Musical Fidelity Nu-Vista 800 aspira a diventare l'amplificatore integrato definitivo di ogni audiofilo che si rispetti.
L'azienda inglese ha una schiera di appassionati che la seguono indefessi nelle sue peregrinazioni alla ricerca della qualità assoluta nella riproduzione dell'audio ad alta fedeltà. E ogni tanto riesce a portare dalla sua parte nuovi adepti con apparecchi allo stato dell'arte, come potrebbe essere il caso dell'amplificatore integrato Musical Fidelity Nu-Vista 800.
Il Musical Fidelity Nu-Vista 800 sfodera subito le sue armi: monta valvole Nuvistor, è stato progettato in CAD/CAM/PCB con la Surface Mount Design Technology ed è capace di erogare ben 325 W RMS per canale.
Nulla è stato lasciato al caso in questo amplificatore e la componentistica è stata scelta tra il meglio disponibile per ottenere straordinarie doti di velocità, trasparenza e finezza in una configurazione dual mono mozzafiato.
La combinazione di valvole, design, cura maniacale nel progetto e componentistica di qualità senza compromessi fa il suo dovere e trasforma questo amplificatore in un vero e proprio modello di assenza di colorazione.
Se proprio vogliamo trovargli una pecca… non dispone di uno stadio pre-phono, ma siamo sicuri che gli audiofili duri e puri alla bisogna sapranno come orientarsi per dotarsene di uno esterno.
Caratteristiche tecniche amplificatore integrato Musical Fidelity Nu-Vista 800
Power output: 330 Watts per channel into 8 Ohms
THD (+ noise): <0.005 % typiclal 20 Hz ÷ 20 kHz
Signal to Noise Ratio: >107 dB 'A' – weighted
Frequency Response: +0, –0.1dB, 10 Hz to 30 kHz
Line Level Inputs: 4 x Line Level RCA / Phono, x Line Level XLR Balanced
Line Level Outputs: 1 pair line level RCA connectors, constant level LINE outputs, 1 pair line level RCA connectors
PREAMP outputs for e.g. biamping
Speaker Level Outputs: 2 pairs 4 mm banana plug/binding posts
Dimensions (WHD): 19″ x 7.4″ x 20.1″
Weight: 86 lbs.
Prezzo di listino: 8.000 £
Produttore: MUSICAL FIDELITY
Amplificatori integrati a prezzi imbattibili