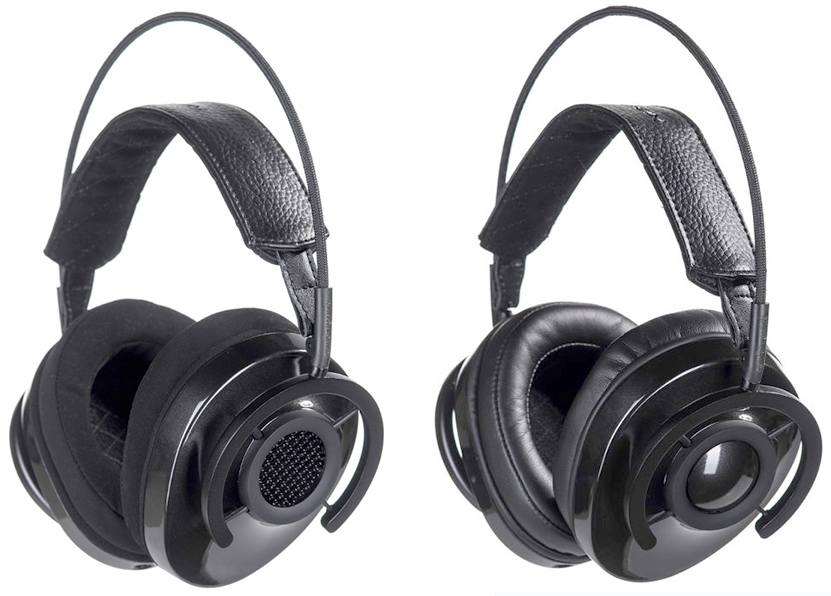 AudioQuest NightHawk Carbon e AudioQuest NightOwl Carbon arrivano dopo la prima cuffia AudioQuest NightHawk – in cui molti elementi progettuali lasciarono impressionati positivamente gli ascoltatori di tutto il mondo – per le richieste di alcuni utilizzatori interessati ad una diversa finitura dei padiglioni, a cavi più versatili e ad una versione con padiglioni chiusi.
La prima cuffia AudioQuest NightHawk uscì con gli innovativi padiglioni in legno liquido, le griglie di diffusione ergonomiche e il cavo con conduttore solido ad alte prestazioni. Al fine di soddisfare le richieste degli utilizzatori, ecco due nuovi modelli: AudioQuest NightHawk Carbon e AudioQuest NightOwl Carbon.
AudioQuest NightHawk Carbon
Due coppie di padiglioni, cavo di collegamento estremamente resistente, dotato di pulsanti per il microfono e la riproduzione, bassissima distorsione e massimo confort, anche in prolungate sedute d'ascolto. I trasduttori sono strutturati come veri altoparlanti, realizzati con membrane in biocellulosa, sospensione esterna in gomma cedevole e bobine avvolte su veri supporti.
L'altoparlante con tecnologia brevettata ad intercapedine suddivisa, rimane la tecnologia di riferimento, per la sua capacità di ridurre drasticamente la distorsione d'intermodulazione. I padiglioni delle cuffie AudioQuest NightHawk Carbon sono costruiti con un rivoluzionario materiale che permette di realizzare nervature interne di rinforzo acusticamente ottimizzate, per minimizzare risonanze e vibrazioni.
Il sistema di sospensione, brevettato, permette ai padiglioni di muoversi liberamente e di adattarsi a qualsiasi forma o dimensioni della testa. Infine, un'efficace disaccoppiamento dei padiglioni, per contrastare efficacemente le risonanze.
Caratteristiche tecniche cuffia AudioQuest NightHawk Carbon
NightHawk Carbon
Impedance: 25 ohms
Sensitivity: 99 dB SPL / mW
Power Handling: 1.5 W
Weight: 346 g
Driver: 50 mm Dynamic – Biocellulose Diaphragm – 1.2T Split-Gap Motor
Cable
Length: 1.3 m
Conductors: Long Grain Copper
Jacket: Flexible, Non-Braided, Kink-Free, Non-Microphonic
Terminations: 3.5 mm TRRS to Dual 2.5 mm Mono, Direct-Silver Plated Tellurium Copper (TeCu)
Discrete Microphone and Smartphone Controls
Adaptor (included): 3.5 mm to 1/4″, Direct-Silver Plated High-Purity
Prezzo: € 599
AudioQuest NightOwl Carbon
Questa è la versione chiusa, che sostituisce le griglie di diffusione della NightHawk con un ingegnoso sistema di smorzamento aperiodico, in grado di isolare completamente sia dal rumore esterno, sia dal suono riprodotto dalla cuffia verso l'esterno. Sotto la porzione circolare centrale dei padiglioni è nascosto un condotto, che corre lungo il perimetro del padiglione per poi confluire in un radiatore di flusso d'aria resistivo.
Differentemente dalle altre cuffie, che utilizzano una struttura sigillata, nelle AudioQuest NightOwl Carbon si è potuto alleviare efficacemente l'accumulo di pressione, permettendo alle membrane di muoversi liberamente. In questo modo si garantisce alle membrane, dopo i segnali impulsivi, di tornare allo stato di quiete, senza generare oscillazioni parassite o risonanze.
Infine, sono stati implementati diversi perfezionamenti, come quelli correlati all'acustica, all'ergonomica e alla cosmetica, per offrire un miglioramento generale delle prestazioni.
Caratteristiche tecniche cuffia AudioQuest NightOwl Carbon
NightOwl Carbon
Impedance: 25 ohms
Sensitivity: 99 dB SPL / mW
Power Handling: 1.5 W
Weight: 346 g
Driver: 50 mm Dynamic – Biocellulose Diaphragm – 1.2T Split-Gap Motor
Cable
Length: 1.3 m
Conductors: Long Grain Copper
Jacket: Flexible, Non-Braided, Kink-Free, Non-Microphonic
Terminations: 3.5 mm TRRS to Dual 2.5mm Mono, Direct-Silver Plated Tellurium Copper (TeCu)
Discrete Microphone and Smartphone Controls
Adaptor (included) :3.5 mm to 1/4″, Direct-Silver Plated High-Purity
Prezzo: € 599
Produttore: AUDIOQUEST