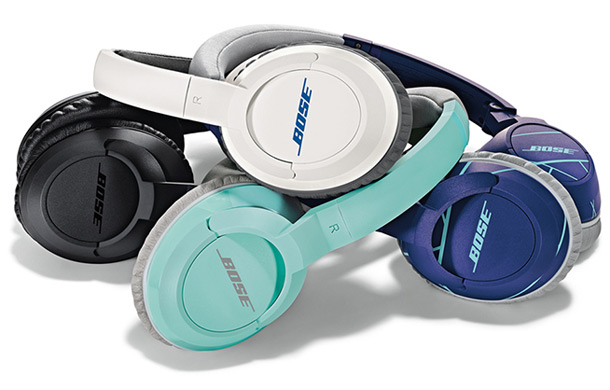 Belle, colorate, ben suonanti, robuste e leggere, tanto da dimenticare di averle indossate, le Bose SoundTrue™ sono le nuove cuffie in versione around-ear e on-ear.
Le cuffie Bose SoundTrue™ sembrano fatte solo per chi ama ascoltare musica in casa, sdraiato sulla poltrona. Invece, sono fatte anche e, soprattutto, per la mobilità, data la loro resistenza e comodità (140 gr incluso il cavo). Sono fatte per avere fuori, in movimento, la stessa sensazione sonora offerta da un impianto casalingo.
Le cuffie SoundTrue™ sono state progettate in base a principi dell'acustica avanzati per garantire il suono tipico Bose, ricco di note altissime e bassi profondi. L'archetto imbottito e i cuscinetti in memory offorno sempre il massimo comfort, anche con le playlist più lunghe.
Progettate per durare a lungo, le cuffie Bose SoundTrue™ hanno sia i padiglioni, sia l'archetto pieghevoli, per occupare meno spazio nella custodia durante il trasporto.
Scegli la tua cuffia
Le SoundTrue™ possono essere utilizzate con iPhone e altri dispositivi Apple. Il telecomando in linea integrato, presente sul retro del microfono, permette di controllare le funzioni musicali: regolare il volume, riprodurre e mettere in pausa i brani, saltare i brani, passare a brani precedenti o successivi e cambiare playlist. Inoltre, è possibile passare facilmente dalle chiamate alla musica e viceversa con un solo tocco.
Prezzo: euro 179,95
Produttore: BOSE
Le cuffie Bose ai migliori prezzi
Amazon Auto Links: No products found.
Amazon Auto Links: Could not resolve the given unit type, . Please be sure to update the auto-insert definition if you have deleted the unit.