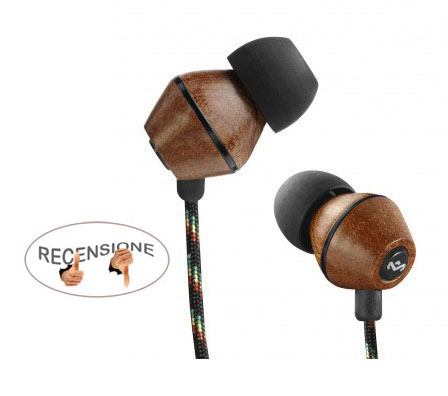 Le cuffie The House of Marley People Get Ready Midnight, in memoria del più celebre artista reggae, rimandano sin da subito alla Giamaica grazie all'abbondante uso dei colori della bandiera del Paese caraibico. Le abbiamo ascoltate a lungo. Ecco cosa ne pensiamo.
Caratteristiche dichiarate dal costruttore:
Serie: Jammin' Collection
Tipologia: cuffia in-ear
Risposta in frequenza: 15 Hz ÷ 20 kHz
Driver da 10 mm
Impedenza 16 ohm
Micro altoparlante dinamico con magnete al neodimio
Connettore a 90 gradi placcato in oro
Comandi per iPod/iPhone
Il modello in prova, denominato People Get Ready Midnight, si fa subito notare per caratteristiche anche extra-musicali.
In primo luogo l'attenzione all'ambiente: la "cassa" degli auricolari è in vero legno (faggio e acero) e la plastica e l'alluminio usati sono tutti riciclati. In secondo luogo, al di là dell'aspetto vintage donato dall'uso del legno, il cavo è rivestito in tessuto con i colori della Giamaica, soluzione che gli conferisce un'aria "sbarazzina" ed evita fastidiosi attorcigliamenti. Il cavo è sufficientemente lungo per un uso in mobilità (lettori Mp3, meglio se di casa Apple, poi scopriremo perché) e/o magari per collegare le cuffie a un computer. A meno di usare una prolunga, è escluso l'uso in un impianto stereo domestico. Ma d'altro canto non è per questo che sono state pensate le People Get Ready Midnight.
Fornite di tre coppie di "gommini", che consentono di adattare le Marley a qualsiasi morfologia di orecchio, al centro del cavo c'è il controllo del volume, il tasto muting e un microfono, ma… funzionano solo nell'ecosistema iPod/iPhone/iPad, per fortuna anche sui modelli più obsoleti della casa della mela morsicata.
Mentre People Get Ready fa riferimento a una celebre canzone di Bob Marley (One Love – People Get Ready, appunto, un vero e proprio inno generazionale), l'aggiunta di Midnight fa riferimento all'ottima capacità delle cuffie The House of Marley di isolare l'ascoltatore dai rumori provenienti dall'ambiente esterno, abbattendolo di almeno il 50%. Niente male per una cuffia di questa tipologia. La costruzione, più in generale, è sufficientmente robusta e comunque in linea con cuffie di questa fascia di prezzo.
Ho ascoltato le People Get Ready Midnight con la sezione di amplificazione per cuffia dell'Asus Sonar Essence One a cui ho dato in pasto un bel po' di musica liquida, ad alta risoluzione, non compressa e compresa in Mp3, di diversi generi, e alcuni file di test forniti da Cambridge Audio per i suoi network player e il disco test Nu Force Audio Concept. Sono poi passato a collegare le cuffie al player Mp3 portatile Sony Walkman NWZ-5032575, confrontandole anche con le sue già ottime cuffie in dotazione.
Non c'è dubbio, le People Get Ready Midnight sono incentrate sulla gamma bassa, assai generosa senza mai essere invadente, ma decisamente poco a suo agio con strumenti "naturali" come batterie jazz o contrabasso, caratteristica messa in evidenza dall'analiticità dell'Asus. Tutt'altra musica, è proprio il caso di dirlo, con generi più "moderni": i Subsonica pompano che è un piacere, l'elettronica di casa Raster-Noton è godimento puro, l'indietronica digitale e vagamente jazzy di Four Tet scaraventa immediatamente l'ascoltatore in atmosfere notturne e fumose, il rock manifesta una dinamica eccellente. Ma là dove le frequenze alte sono ben presenti e spesso spettacolari, i medi vengono lasciati indietro e risultano quasi congestionati.
In pratica, le People Get Ready Midnight sembrano due cuffie diverse a seconda dei generi musicali che gli diamo in pasto: decisamente insufficienti con sonorità acustiche, che soffrono di poca naturalezza e di una riproduzione della scena sonora che ne schiaccia il fronte verso il centro. Spettacolari ed esaltanti con musica pop, rock, dance, elettronica e con tutti i generi in cui il produttore e il banco mixer fanno sentire generosamente il loro lavoro. E se i file sono di buona qualità (almeno 256 Kbps), con l'Mp3 player non fanno neanche troppo rimpiangere un ascolto con un impianto stereo "grande".
Concludendo, col Natale ormai alle porte, le People Get Ready Midnight sono un'ottima strenna per figli e nipoti, che godranno di bassi e acuti come probabilmente non avranno mai sentito. Sono decisamente dedicate all'ascolto in mobilità, mentre gli audiofili di vecchia data, probabilmente adepti del culto della musica classica e del jazz, dovranno considerare altri tipi d'acquisto.
Ideali per: dispositivi portatili Apple, lettori Mp3; musica: pop, rock, elettronica
(Massimo Garofalo)
Compra The House of Marley People Get Ready al miglior prezzo