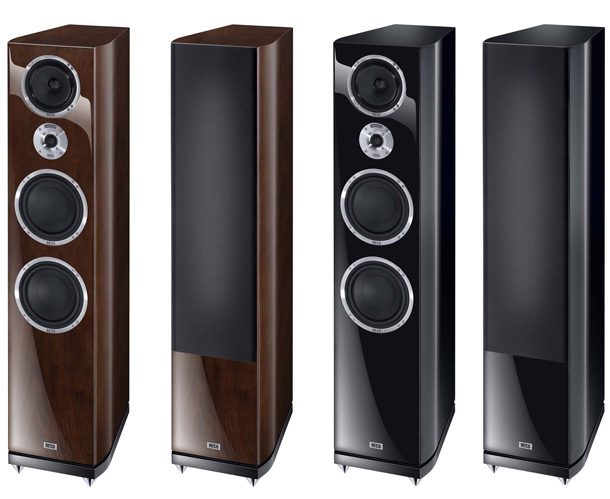 HECO The New Statement sono i nuovi diffusori 3 vie bass-reflex, attuale vanto e coppia ammiraglia della casa tedesca. Rappresentano il meglio di oltre 60 anni di esperienza nella costruzione di casse acustiche.
I diffusori Heco The New Statement sono il nuovo modello di punta della HECO, un mito in fatto di casse acustiche, e, per questo marchio, rappresentano il raggiungimento dello stato dell'arte.
Decenni di esperienza, misure, collaudi, uso dei migliori materiali, come il leggendario magnete in AlNiCo, grazie alla moderna tecnologia, questi elementi si sono fusi per dare vita a diffusori di squisita fattura e dal suono unico.
Derivano direttamente dai loro predecessori, The Statement, di cui gli amanti della musica, in tutto il mondo, hanno subito il fascino, avendo avuto innumerevoli premi dalla stampa internazionale.
I The New Statement hanno assunto il concetto originale  e sviluppato in modo significativo numerosi miglioramenti, per esempio, in termini di risposta dinamica e trasparenza nella riproduzione. Insomma, un altro passo in avanti.
Tutti i componenti usati per i diffusori HECO The New Statement sono stati sviluppati nei laboratori HECO in Germania. Particolare attenzione è stata posta nella progettazione dei vari driver, in quanto, ovviamente, fondamentali per il risultato finale.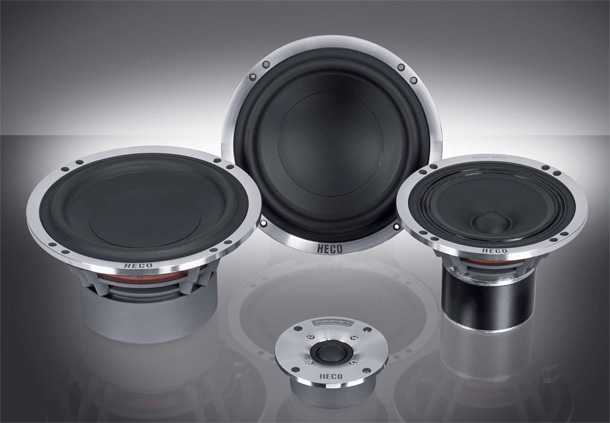 Il magnete in AlNiCo è costoso, ma molto rinomato per le sue prestazioni e garantisce un suono meraviglioso, naturale e preciso, specialmente nella riproduzione delle frequenze medie.
Per i bassi sotto i 200 Hz lavorano due woofer da 200 millimetri e come le unità midrange, hanno coni in carta kraft, per una maggiore rigidità. Combinati con una sospensione in gomma e un sistema motore a magnete duale simmetrico, sono in grado di riprodurre frequenze estremamente basse, con elevata dinamica e precisione.
La gamma degli acuti è gestita da un tweeter HECO selezionato ad alta energia. Grazie alla sua cupola da 30 mm, alla sua flangia accuratamente profilata, dal peso ottimizzato, agli anelli di rame nel circuito magnetico, riduce gli effetti negativi indesiderati di diffrazione al bordo, abbinando un'ottima dispersione.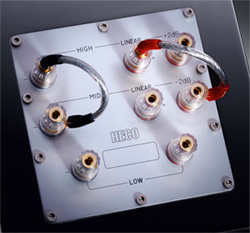 Il pannello posteriore dotato di terminali placcati in oro, non solo permette un collegamento tri-wiring o per la tri-amplificazione, ma offre anche una gamma di regolazione fine per il bilanciamento del suono in un determinato ambiente: il livello degli alti e dei medi può essere modificato per adattarsi alle particolari condizioni ambientali, aumentandolo o riducendolo di 2 dB rispettivamente.
Il crossover è stato completamente rivisitato, apportando una linearizzazione d'impedenza e adottando componenti con tolleranze molto ristrette, come i condensatori MKP e resistenze MOX.
Il cabinet dei diffusori HECO The New Statement è realizzato in MDF, con elaborati e ampi rinforzi interni. Per un isolamento ottimale dalle vibrazioni provocate dal sistema di altoparlanti, è stato collocato su pesanti punte di metallo massiccio, tramite un piano smorzante ed assorbente. Le finiture, laccato Piano Black e Piano Espresso, esprimono il massimo dell'eleganza. Le griglie sono fissate nella loro posizione da un certo un numero di minuscoli e costosi magneti in neodimio.
Caratteristiche tecniche dei diffusori HECO The New Statement
Principle: 3 way bass-reflex
Driver: 2 x 8" woofer, 1 x 6.5" midrange, 1" dome-tweeter
Power handling (RMS/max.): 300 / 500 Watt(s)
Impedance: 4 – 8 Ω
Frequency response: 18 ÷ 52.000 Hz
Crossover frequencies: 230 Hz, 3.200 Hz
Recommended Amplifier Output: 30 – 450 Watt(s)
Sensitivity: 93 dB
Cabinet surface: Piano Black, Piano Espresso
Dimensions (WxHxD): 292 x 1245 x 450 mm (480 mm inkl. Terminal)
Weight: 48,8 kg
Prezzo: euro 4.798 la coppia
Produttore: HECO
Agente per l'Italia: MR DISTRIBUTION