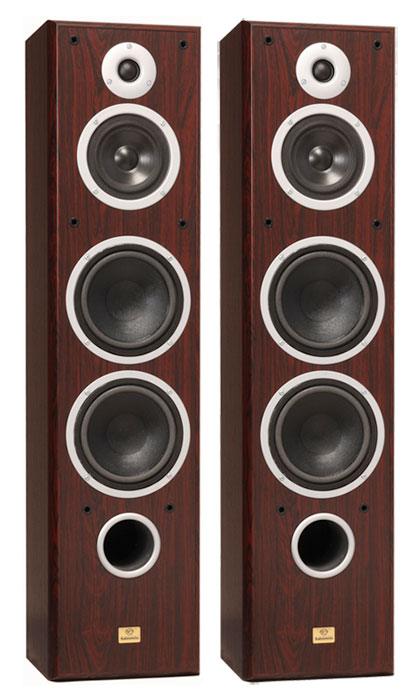 Per chi pensava fosse impossibile, ecco un'offerta che è difficile rifiutare: una coppia di diffusori da pavimento, a tre vie, VEF Radiotehnika RRR modello Rigonda-S FS-5.3, sino al 31/12/12, costa 299 euro.
Il diffusore VEF Radiotehnika RRR Rigonda-S FS-5.3 è un tre vie, con quattro altoparlanti, da pavimento, "low cost" ed è prodotto interamente in Europa.
Provato dalla rivista "Stereo" (RU) ha conseguito il miglior punteggio (5 stelle) per la qualità sonora a pari merito con modelli più costosi di Mordaunt Short e Yamaha.
"The result exceeded our expectations. Speakers excellent sound control, smooth, balanced broadcast the entire frequency range. Superbly designed lowercase perfectly integrated into the overall sound field. Speakers adequately passed sophisticated tests to reproduce records piano orchestra. Acoustics accurately transmits sounds, organizes spectacular soundstage." 
Queste casse acustiche sono state progettate da Mr. Raimonds Skuruls (lettone anch'egli, come Radiotehnika), utilizzando la tecnologia CONEQ di sua invenzione. È basata sul principio della valutazione di trasduttori elettro-acustici a partire dalla risposta in frequenza della potenza acustica (APFR – acoustic power frequency response).
Caratteristiche tecniche del VEF Radiotehnika RRR Rigonda-S FS-5.3
Diffusore: 3 vie da pavimento, 4 altoparlanti, Bass reflex.
Altoparlanti: 2 woofer da 175 mm, 1 midrange da 114 mm, 1 tweeter da 25 mm
Impedenza: 4 ohm
Risposta in frequenza: 35 ÷ 20.000Hz
Efficienza: 90 dB
Potenza massima in ingresso: 180 W
Dimensioni in mm: 947 x 228 x 227 (A x L x P)
Peso netto: 12 kg. cad.
Finitura: frassino nero, mogano
Documentazione sulla tecnologia CONEQ
Produttore: VEF RADIOTEHNIKA RRR
Distributore: HI-FIDIRECT
http://youtu.be/RbP3YM5UkKI