Il sintoamplificatore multicanale Marantz NR1506 non solo è di dimensioni compatte, ma sfoggia una riproduzione stereofonica degna di un impianto HiFi.
569,00 €
Sintoamplificatore Home Cinema 5.1 5 x 85 Watt (6 ohm, 1%) telaio di altezza ridotta WiFi, Bluetooth, Spotify Connect, Internet radio, Ingresso USB compatibile iPod/iPhone, Dolby TrueHD, DTS HD, Audyssey MultEQ, HDMI 2.0 (4k full rate) controllabile ...
read more
(as of 31 Agosto 2020 - More info

Product prices and availability are accurate as of the date/time indicated and are subject to change. Any price and availability information displayed on [relevant Amazon Site(s), as applicable] at the time of purchase will apply to the purchase of this product.

)
Troppo spesso gli amplificatori home theater – o sintoamplificatori multicanale – sacrificano la riproduzione "solo" stereofonica a livelli inaccettabili per qualsiasi audiofilo che si rispetti.
Non è il caso del Marantz NR1506 che di certo non fa miracoli, ma che non fa neanche troppo rimpiangere un ampli solo stereofonico.
Ovviamente stiamo parlando di un apparecchio a basso budget e di miracoli non se ne fanno, ma comunque…
Il Marantz NR1506 ha una connettività davvero di rilievo e pronta a soddisfare anche l'utente più smaliziato. Ovviamente non mancano le connessioni senza fili come Bluetooth, WiFi e AirPlay.
Ben 6 le porte HDMI a disposizione, di cui una allocata sul pannello frontale e di cui ben 5 sono compatibili col 4K e col formato a rapporto d'aspetto 21:9.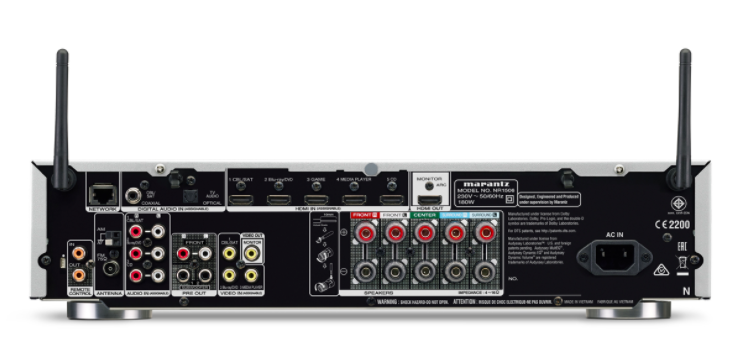 Il DSP a 32-bit integrato supporta tutti i principali formati audio surround, inclusi Dolby TrueHD e DTS-HD Master Audio, ma visto il prezzo non ci stupiamo che manchi il Dolby Atmos (e neanche lo pretenderemmo).
Il Marantz NR1506 è chiaramente pensato per ambienti medio piccoli, sviluppando 50 watt per ognuno dei suoi 5 canali (niente 7.1, quindi).
Streaming? Sì, grazie. Spotify, Pandora e altri popolari servizi sono già integrati.
Gli audiofili preferiscono 2 subwoofer e il Marantz NR1506 li accontenta con 2 uscite dedicate a questa particolare tipologia di cassa acustica.
Gli appassionati di home theater che già lo conoscono, invece, non vogliono assolutamente rinunciare al sistema di autocalibrazione Audyssey, qui presente nella versione Bronze e con l'Audyssey MultEQ e Audyssey Dynamic Volume (un elaboratore psico-acustico che dà il meglio di sé a bassi volumi).
A dispetto di una interfaccia video un po' datata, l'app è ben realizzata ed efficiente.
L'USB consente di collegare al volo hard disk e pen drive, mentre la compatibilità col protocollo DLNA consente l'accesso ai server di Rete e ad eventuali NAS.