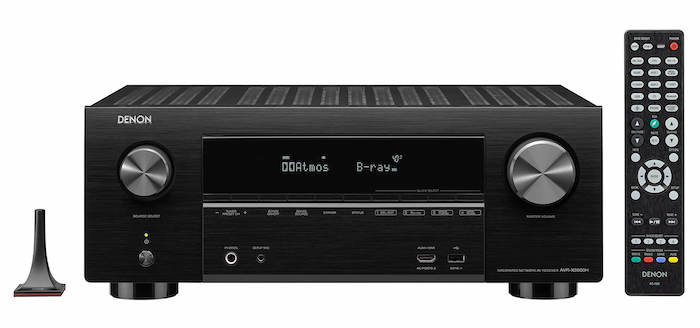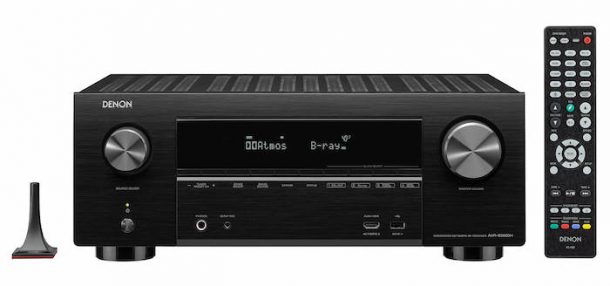 Il Denon AVR-X3600H è un amplificatore audio / video capace di erogare 105 watt a 8 Ω su ciascuno dei suoi 9 canali. Anche gli audiofili duri e puri si troveranno perfettamente a loro agio con questa belva, specialmente se dediti alla musica liquida.
Denon AVR-X3600H, panoramica
C'è poco da fare e c'è poco da dire. La reputazione del marchio Denon è solidissima e lo è ancora di più in campo di amplificazione multicanale.
Non fa eccezione il Denon AVR-X3600H, un amplificatore generoso per potenza (105 watt a 8 Ω su ciascuno dei suoi 9 canali) e per quantità di connessioni (8 HDMI in ingresso e 3 in uscita, tra l'altro anche eARC).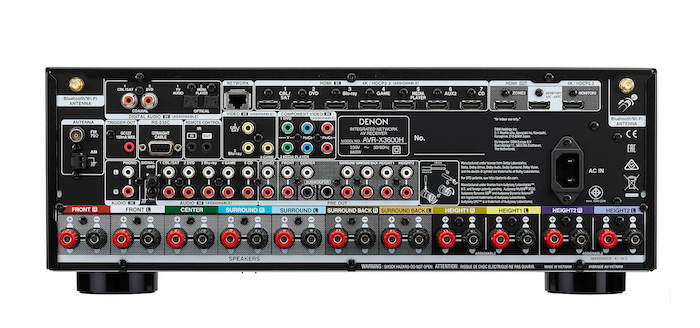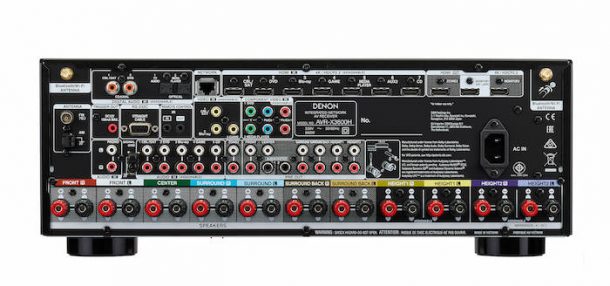 In dote si porta le ultime tecnologie dei video a 4K, ovvero Dolby Vision, HDR10 e l'upscaling da SD e HD a 4K.
Quanto ai codec audio… anche qui siamo alla completezza assoluta, compreso il supporto ai formati di audio tridimensionale come Dolby Atmos, Dolby Atmos Height Virtualization Technology, DTS:X, DTS Virtual:X e IMAX Enhanced Support.
Il DAC interno è basato su un processore collaudatissimo e di alto livello, quel AK4458/VN ben conosciuto anche dagli appassionati da audio digitale a 2 canali.
Il chip di conversione da digitale ad analogico supporta tutti i formati più comuni, compresi  WAV, FLAC (24-bit/192-kHz), and ALAC (24-bit/96-kHz), ma anche il DSD 2.8/5.6MHz.
Impensabile al giorno d'oggi non avere in dota una pletora di connessioni senza fili. E il Denon AVR-X3600H anche qui gioca ad essere completo: Bluetooth, Apple Airplay 2, WiFi con HEOS (Home Entertainment Operating System, ovvero il multi-room secondo Denon e Marantz).
Tidal, Deezer e Spotify (più altri servizi che cambiano in relazione alla disponibilità territoriale) sono pienamente supportati.
E a chi si lamenta che i telecomandi di questi apparecchi sono troppo complessi… c'è l'app e il controllo vocale via Amazon Alexa, Google Assistant e Apple Siri.
Come suona
A fronte di un set-up tutto sommato semplice, anche aiutato dall'Audyssey MultEQ XT32, il Denon AVR-X3600H regala grandissime soddisfazioni in primo luogo quanto a dinamica espressa. Siamo di fronte a una delle migliori realizzazioni in assoluto nella sua fascia di prezzo (che comunque NON è entry-level).
Nessun segno di debolezza, neppure a volumi assai generosi: tutto rimane sempre chiaro e pulito, esteso in risposta in frequenza e dinamicamente corretto.
Personalmente vi confesso di avere un debole per i codec della famiglia DTS e anche in questo caso ho trovato queste tracce con quel qualcosa in più che continua a farmele preferire rispetto alle analoghe della famiglia Dolby, che però continua a essere vincitrice per i fortunati che possono permettersi di installare in casa in sistema secondo i parametri dettati dall'Atmos.
Sul fronte audio a 2 canali il Denon AVR-X3600H si comporta da bene a molto-bene, a seconda dei file che gli vengono dati in pasto. Tanto per dare un parametro: è equivalente a un amplificatore stereo della metà del suo prezzo, cosa che in ambito di amplificatori multicanale appare quasi come un miracolo, dato che (troppo) spesso sacrificano proprio l'ascolto stereo. Qui invece… nessun sacrificio, ma tutto sommato buone prestazioni che non generano particolari rimpianti e che possono far considerare questo apparecchio come il cuore pulsante di un impianto unico.
Cosa non ci è piaciuto
A voler trovare il pelo nell'uovo del Denon AVR-X3600H si fa presto: il telecomando (come al solito) non è proprio il massimo sia dell'ergonomia e sia dell'organizzazione dei tasti.
Cosa sicuramente da tener presente è che il Denon AVR-X3600H ha bisogno di aria: tende a scaldare in maniera per cui è assolutamente sconsigliato infilarlo in buche e nicchie come invece verrebbe spontaneo.
Caratteristiche tecniche ampli a/v Denon AVR-X3600H
9.2 channel (dual subwoofer outputs), can be configured to 11.2 channel with 2 pre-outs
POWER: 9-channel discrete amplifier, 105W per channel (8-ohm, 20Hz – 20kHz, 0.08% THD 2-channels driven)
MULTICHANNEL AUDIO PROCESSING: Dolby Atmos, Dolby Atmos Height Virtualization, Dolby TrueHD, Dolby Surround, DTS:X, DTS Virtual:X, DTS HD Master, DTS Neural:X, Multichannel Stereo, IMAX Enhanced
CALIBRATION AND ROOM CORRECTION: Audyssey MultEQ XT32
HDMI CONNECTIVITY: 8 HDMI inputs (1 HDMI input on the front panel) with full HDCP 2.3 support, 3 HDMI outputs
VIDEO PROCESSING: 4K/60 Hz full-rate pass-through, 4:4:4 color resolution, HDR 10, HLG, BT.2020, and Dolby Vision compatibility
AUDIO INPUTS: analog: 5 stereo line-level, 1 phono (MM), 1 USB; digital: 2 optical, 2 coaxial
AUDIO LINE-LEVEL OUTPUTS: 11.2 multichannel (2 subwoofer outs), 1 multi-room
VIDEO INPUTS: 3 composites, 2 component
VIDEO OUTPUTS: 1 component
HIGH-RESOLUTION AUDIO FORMAT DECODING: ALAC, FLAC and WAV lossless files up to 24-bit/192-kHz, DSD 2.8MHz/5.6MHz
WIRELESS NETWORKING: Bluetooth and built-in Wi-Fi with 2.4GHz/5GHz dual band support
STREAMING SUPPORT: Spotify, Pandora, Tidal and more (music streaming services may vary by region) via AirPlay 2, HEOS app
HEOS BUILT-IN: for multi-room audio, voice control, and digital music streaming
VOICE CONTROL COMPATIBILITY: Amazon Alexa, Google Assistant, Apple Siri, and Josh.AI
SMARTPHONE CONTROL: Denon 2016 AVR remote app available for iPhone and Android devices, also HEOS app
DIMENSIONS WXDXH:
17.1″ × 14.9″ × 6.6″ (without antennas)
WEIGHT: 26.7 lbs.