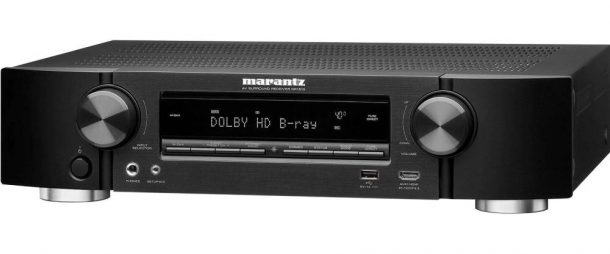 Il sintoamplificatore Marantz NR1510 occupa poco spazio, è versatile, abbastanza economico e non ha bisogno di accessori per trasmettere senza fili alla vostra cuffia.
Il sintoamplificatore Marantz NR1510 è una sottiletta. Scherzi a parte, è uno dei pochi ampli-streamer multi-canale ad avere dimensioni davvero ultra-slim, rendendo il collocamento in ambiente davvero più semplice.
Marantz NR1510, parola d'ordine: versatilità
Siamo alle prese con un apparecchio che fa della versatilità il suo punto di forza: la più recente connettività HDMI, Dolby TrueHD, DTS-HD Master Audio, streaming da sorgenti online, controllo vocale tramite Amazon Alexa, Google Assistant e Apple Siri (tutti disponibili a breve in lingua italiana tramite aggiornamento firmware); questo e tanto altro, compreso il ricevitore e il trasmettitore Bluetooth incorporato a un prezzo davvero abbordabile: 679 euro di listino.
Connettività
Sono ben 6 le prese HDMI in dotazione a questo Marantz NR1510. Una è posta sul pannello frontale, magari per collegare al volo una telecamera. Gli ingressi supportano i più moderni standard, inclusi HDCP 2.3, video 4K Ultra HD 60Hz, sottocampionamento 4: 4: 4 Pure Color, Dolby Vision, HLG, High Dynamic Range (HDR10) e BT.2020 pass-through.
Con l'eARC (Enhanced Audio Return Channel), inoltre, è possibile trasmettere audio lossless  ad oggetti dalla smart TV al Marantz NR1510, compresi quindi i formati Dolby TrueHD e Dolby Atmos.
Il trasmettitore Bluetooth incorporato consente di collegare cuffie senza fili senza l'uso di ulteriori accessori; oltretutto, l'uso della cuffia non implica che i diffusori siano spenti. In altre parole, alcuni membri della vostra platea casalinga potrebbero godersi la musica dalle casse acustiche e – ad esempio – un'altra persona con delle difficoltà uditive potrebbe usare la cuffia.
Fra le sorgenti musicali disponibili ci sono i più diffusi servizi di streaming: Spotify, Deezer, Tidal e molti altri, tramite Bluetooth, AirPlay 2 o con l'app HEOS.
La porta USB frontale è dedicata esclusivamente ai file musicali.
Lo standard di casa Denon e Marantz per il multi-room, l'HEOS, è qui integrato, così come – a dispetto del mini-budget richiesto – sono supportati i comandi vocali.
Il WiFi integrato ha il supporto dual band, a 2.4 e a 5GHz con doppia antenna.
Nell'affollato pannello posteriore scorgiamo anche le uscite per 2 subwoofer.
Ciliegina sulla torta: c'è l'ingresso phono, in buona compagnia di altri 3 ingressi RCA.

Potenza e formati supportati
Il sintoamplificatore multicanale Marantz NR1510 ha finali di potenza a componenti discreti a 5 canali e capaci di erogare 85 W per canale a 6 Ω.
Oltre ai già citati Dolby TrueHD e DTS-HD Master Audio, i due formati top sui supporti fisici, lo streamer integrato di questo piccoletto decodifica file lossless in vari formati fra cui ALAC, FLAC e WAV fino a 24-bit/192-kHz; non manca il DSD5.6.
Altre funzionalità
Come ormai si usa fare per qualsiasi tipo di apparecchio connesso, a prescindere dal budget richiesto, anche in questo caso abbiamo a disposizione la Marantz AVR Remote App per iOS e Android: consente di controllare l'accensione e lo spegnimento, il volume, la selezione d'ingresso e le sue impostazioni, oppure passare istantaneamente all'app HEOS.
Anche i videogiocatori più incalliti avranno pane per i loro denti con questo Marantz NR1510, che si porta in grembo la modalità Auto Low Latency Mode, che garantisce agli utenti di Xbox One un'esperienza di gioco più reattiva e coinvolgente.
Il sistema di calibrazione degli altoparlanti è il celebre ed efficace Audyssey MultEQ, in buona compagnia dei sistemi Dynamic Volume e Dynamic EQ, quest'ultimo finalizzato all'ottimizzazione della riproduzione dei dialoghi.
Conclusioni
Il sintoamplificatore multicanale Marantz NR1510 è un apparecchio versatile e ben suonante. La sua potenza d'uscita (sono dichiarati 85 watt che però a 8 Ω diventano 50), per chi ha un po' di esperienza nel settore a/v sa che è sufficiente per ambienti fino a 30 mq; oltre sarà bene ricorrere a più robusti modelli superiori.
Amazon Auto Links: No products found.
Amazon Auto Links: Could not resolve the given unit type, . Please be sure to update the auto-insert definition if you have deleted the unit.