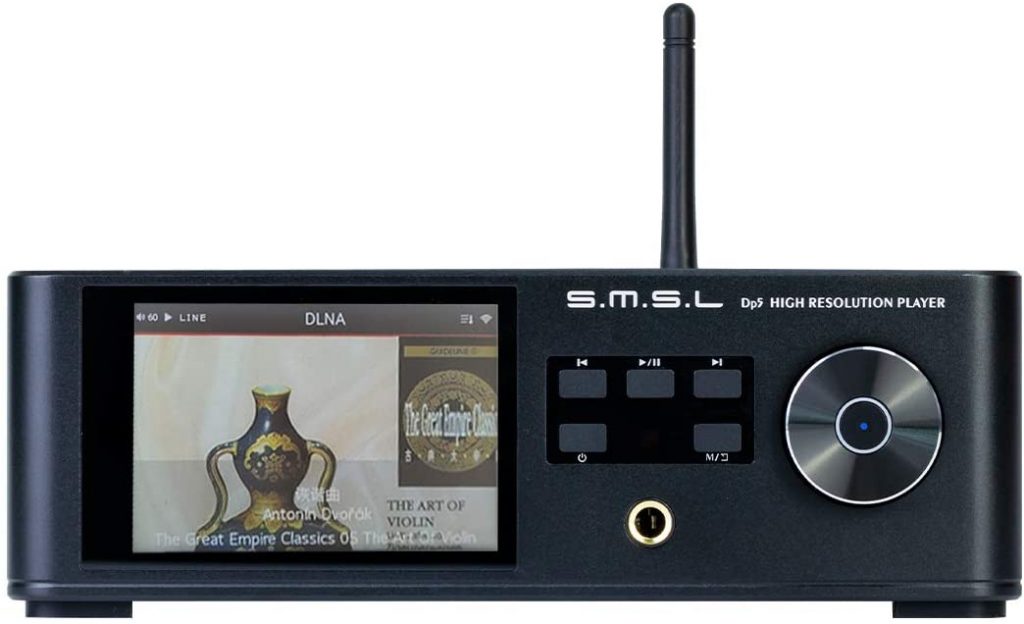 Il lettore di rete / network player S.M.S.L DP5 è un prodotto versatile e completo, con tanto di supporto ai formati DSD256 e MQA.
Con la progressiva (momentanea?) scomparsa del formato CD, gli appassionati di hi-fi che si avvicinano alla musica liquida sono sempre di più. Il lettore di rete S.M.S.L DP5 potrebbe essere un loro valido alleato. Scopriamo perché.
Design e costruzione
A dispetto del formato mini, il network player S.M.S.L DP5 si presenta ordinato e pulito, con tanto di display frontale a colori dalle generose dimensioni.
La costruzione è plasticosa ma neanche tanto: offre comunque la sensazione di sufficiente robustezza.
Il telecomando, pratico ed essenziale, ricorda molto l'impostazione delle varie versioni della FireStick.
S.M.S.L DP5, cos'è e cosa fa
Siamo alle prese con un lettore lossless con uscita amplificatore per cuffie, ben dotato sia per quanto riguarda il supporto ai formati audio più diffusi e sia quanto a possibilità di connessione.
I formati audio supportati sono tutti i più popolari sia lossy e sia lossless (MP3, WMA, WAV, AIFF, AAC, FLAC, OGG, APE, ALAC, DSF, DFF, etc.); per i PCM si arriva a 32-Bit/384kHz, mentre i DSD sono supportati nativamente fino al up to DSD256. Come già accennato, è in grado di decodificare anche il formato MQA, in uso (anche) su Tidal.
La conversione da digitale ad analogico è affidata al DAC ES9038PRO. Si tratta della versione professionale di uno dei più popolari chip di conversione, in grado di assicurare un altissimo rapporto Segnale / Rumore (SNR), eccezionale dinamica e distorsioni bassissime.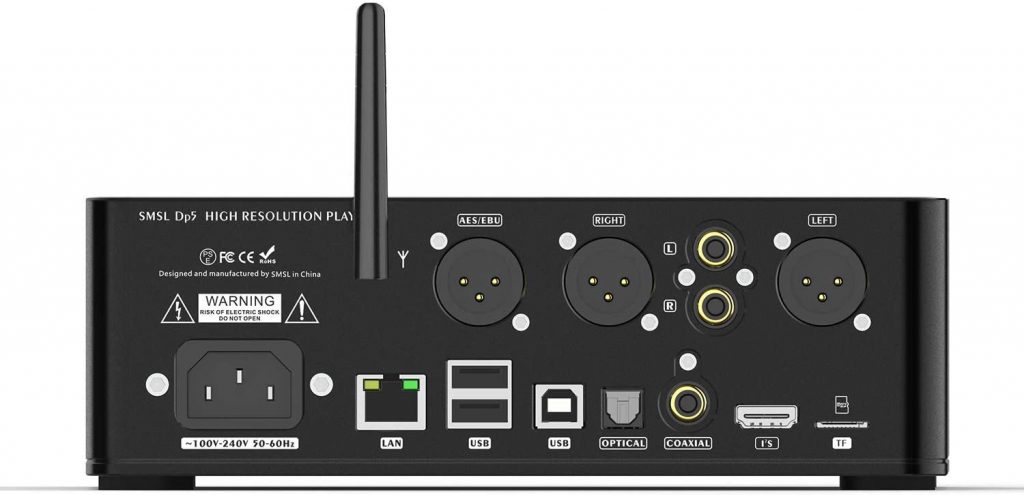 Connessioni
Le connessioni cablate in dotazione riguardano:
USB, per pen drive per hard disk formattati in Fat32 o NTFS e con capacità fino a 4 Tb
I2S
AES
XLR
Coax
Toslink
Il network player S.M.S.L DP5 funziona, quindi, anche da DAC per sorgenti digitali esterne, diventando quindi un vero e proprio hub digitale.
Le uscite sono le classiche RCA e XLR.
Oltre alla consueta porta Ethernet, troviamo la connessione Bluetooth, AirPlay, WiFi 2.4G/5G e la possibilità di ricevere streaming via DLNA, di suonare musica proveniente da NAS e anche da MicroSD Card.
Conclusioni
Siamo alle prese con una dotazione completa e una costruzione basata su componenti di qualità.
Lo S.M.S.L DP5 ha comunque qualche lacuna. Non supporta Roon e non è previsto il supporto diretto alle varie applicazioni di streaming (Spotify, ecc) per le quali bisognerà ricorrere alle relative app per smartphone o – meglio ancora – sfruttare un media server come bubbleUPNP o Serviio per rimediare (cfr la nostra guida). Peccato, il tutto fa perdere un po' di immediatezza all'uso del prodotto, che al momento non ha neanche un'app dedicata.
Caratteristiche tecniche network player S.M.S.L DP5
Powerful ES9038Pro DAC chip.
Full MQA Decoding.
Supports PCM up to 32-Bit/384kHz, DSD up to DSD256 natively.
External Hard Drive Support, unto 4TB.
Supports signal input via USB, IIS, Wi-Fi, LAN, Coaxial, Micro SD card.
Supports DLNA & Airplay.
Supports Headphone Output, RCA line-out, Fully Balanced XLR line-out.
Crisp colorful display.
Input mode:USBx2 / USB Audio 1 /micro SD /Bluetooth/ DLNA/ SAMBA(NAS)
Output mode:Line / balanced / headphone / optical fiber /coaxial / AES / Bluetooth USB I USB out/ IS
THD+N :0.00015%
Dynamic range:130dB (A-Weighted)
SNR:130dB (A-Weighted)
Headphone output power: 89mW(32Ω)/64mW(64Ω)/ 27mW(150Ω)/14mW(300Ω)
Unbalanced line output level: 2.1Vrms
Balanced line output level : 5.2Vrms
USB Audio: DSD Top support DSD256
PCM Top support PCM384kHz
USB Audio System compatibility: windows 7/8/8.1/10;Mac OS X;Linux
DSD D2P :Up to DSD128
Amazon Auto Links: No products found.