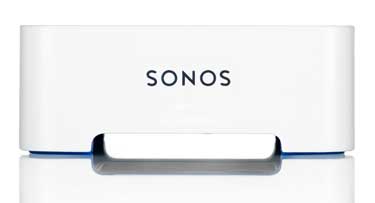 Connettendo ad un router il Sonos BR100 ZoneBridge , esso collegherà in modalità wireless ogni lettore Sonos presente nella casa.
Sonos produce svariati lettori per lo streaming audio dalla rete (abbiamo avuto modo di presentarli, basta cercare Sonos con il "Search" in alto) e ognuno di questi può funzionare anche se posizionato in ambienti della casa dove non è presente il router. Basta connettere al router il Sonos BR100 ZoneBridge e questo invia un segnale wireless a qualsiasi lettore, in qualsiasi punto della casa.
Installazione facile e immediata.
Basta collegare il Sonos BR100 ZoneBridge al router con un cavo Ethernet standard. È sufficiente premere un pulsante per lanciare SonosNet™, la rete mesh wireless peer-to-peer protetta con crittografia AES, che consente a tutti gli altri prodotti Sonos di controllare e riprodurre musica in modalità wireless.
Sistema flessibile. Il Sonos BR100 ZoneBridge è talmente flessibile, che da la possibilità di posizionare i lettori Sonos in qualunque ambiente della casa, collegandoli in modalità wireless.
Installazione automatica, semplicemente premendo un pulsante.
Si può estendere la portata del sistema Sonos con un bridging wireless. La musica sarà diffusa in modalità wireless in punti lontani, posizionando un Sonos BR100 ZoneBridge fra un lettore Sonos, situato in un ambiente isolato della casa e il resto del sistema Sonos.
Si può espandere la portata wireless del Controller. Migliora l'accesso wireless del Controller alla SonosNet, posizionando un Sonos BR100 ZoneBridge in aree dove la copertura wireless va un po' rinforzata. Ideale per installazioni in cui tutti i lettori si trovano nello stesso posto, anziché essere posizionati in tutta la casa.
Semplice connettività Internet per gli altri prodotti disponibili. Il Sonos BR100 ZoneBridge dispone di uno switch Ethernet a due porte, che consente la connettività Internet standard di set-top box, DVR, PC, game console o dell'unità NAS.
Supporto multilingue: il software Sonos System supporta Danese, Olandese, Inglese, Francese, Tedesco, Italiano, Giapponese, Norvegese, Cinese semplificato, Spagnolo e Svedese
Contenuto della confezione: oltre al Sonos BR100 ZoneBridge, cavo di alimentazione, cavo Ethernet piatto, guida rapida con CD di installazione
Alimentazione: con alimentatore esterno con uscita CC 5 V, 2 A
Pulsante di connessione per configurazione automatica in modalità cablata o wireless di Sonos Multi-Room Music System
Spia sul pannello anteriore: indica lo stato del Sonos BR100 ZoneBridge
Dimensioni in mm: 41 x 110 x 110
Finitura: bianco / policarbonato di elevata qualità
Peso: 270 gr
Produttore: SONOS
Distributore: SONOS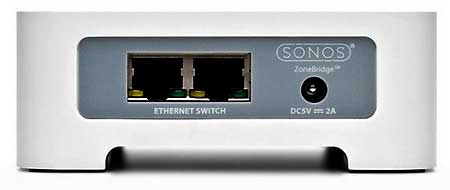 Amazon Auto Links: No products found.
Amazon Auto Links: Could not resolve the given unit type, . Please be sure to update the auto-insert definition if you have deleted the unit.