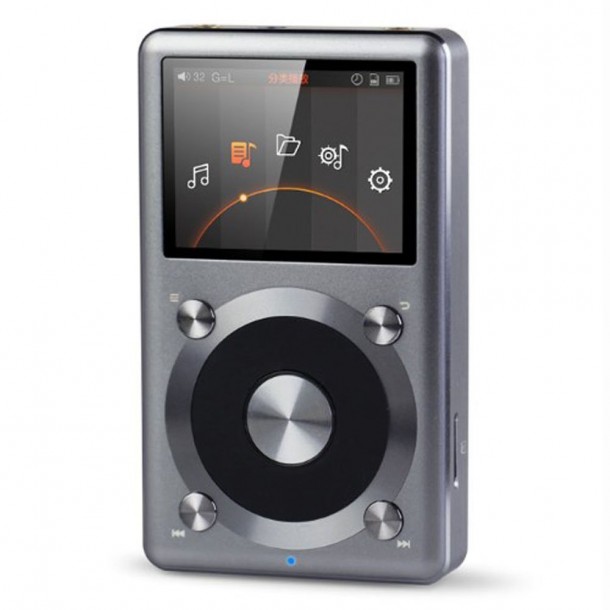 Il FiiO X3 Second Generation è l'evoluzione del Digital Audio Player (DAP) best seller mondiale. L'alta risoluzione in palmo di mano per riprodurre praticamente tutti i formati lossless, DSD nativo compreso. E a un prezzo scontatissimo per i nostri lettori.
Un lettore portatile lossless e che funziona anche da DAC per il computer: è il FiiO X3 Second Generation.
Cosa c'è di nuovo rispetto al Fiio X3 del 2013? In primo luogo le caratteristiche soniche, ancora migliorate. Esteticamente il look ora è total metal e l'interfaccia grafica è decisamente migliorata, con la user experience resa davvero soddisfacente grazie alla ruota del pannello frontale. L'architettura interna ora utilizza un doppio oscillatore per un jitter ancora più basso. E poi il DSD: ora la decodifica nativa è di tipo hardware e non più software. Un equalizzatore a 10 bande e la costruzione di infinite playlist saranno caratteristiche apprezzate dai più giovani, così come la maggiore durata della batteria interna.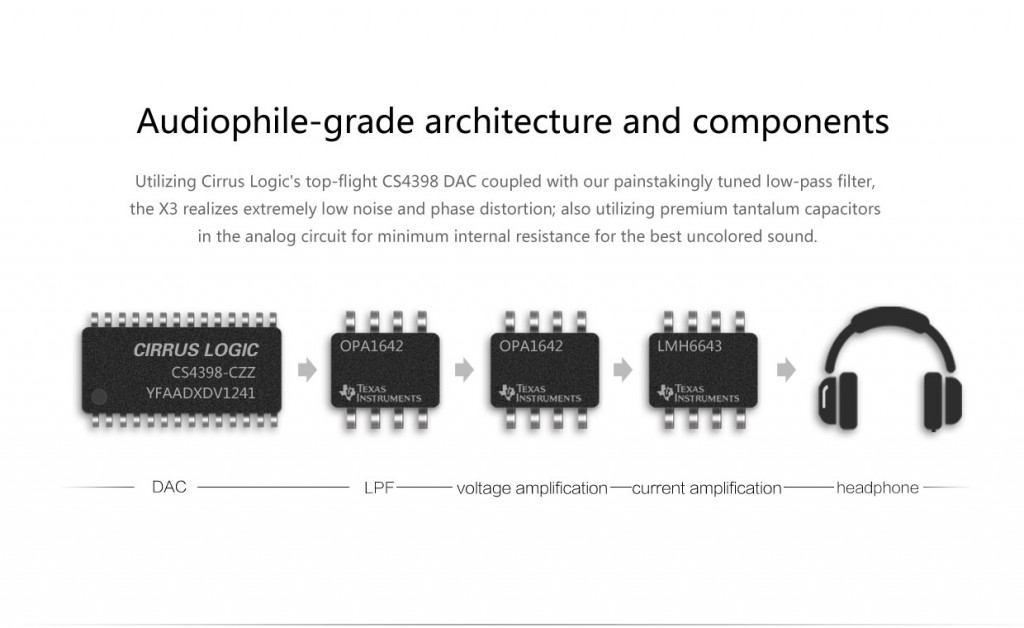 Insomma, un bel po' di "ciccia" in questo nuovo FiiO X3 Second Generation che, è bene ricordarlo, non contiene memoria interna ed è compatibile con tutte le migliori schede di memoria Micro SD card di taglio fino a 128 Gb.
Oltre all'uscita cuffia, ha un'uscita di linea, un'uscita digitale, un ingresso micro-USB per la ricarica e il trasferimento dati e – udite! udite! – per collegarvi l'imminente dock station Fiio.
Caratteristiche tecniche DAP Fiio X3 Second Generation
Standard 3.5 mm Headphone Port
Color Titanium
Drive Ability 16~150 Ω
Dimensions 96.7 ×57.7 ×16.1 mm
Volume Control 120 steps digital potentiometer
Weight 135 g
Equalizer 10-band equalizer (±6 dB)
Display Screen 2.0″ TFT screen, 320 x 240 pixels
Line Out Standard 3.5 mm Port (Shared line out / S/PDIF coaxial out); Digital Out (Coaxial)
Standard 3.5 mm Port (Shared line out / S/PDIF coaxial out)
USB DAC Supporting up to 24 bit / 192 kHz and DSD (driver installation required)
THD+N <0.001% (1 kHz)
SNR ≥114 dB (A-weight)
Frequency Response 20 Hz ÷ 20 kHz
Dynamic Range >110 dB
Crosstalk >102 dB (10 KΩ/1 kHz)
Line Output Level 1.45 V rms (10 KΩ/1 kHz)
Battery Capacity 2600 mAh
Battery Life >11 h (32 Ω; normal volume with display off )
Battery Display Yes (Accurate battery % readings))
Charging Time <3 h (DC 5 V 2 A)
Audio Formats Supported
Lossless: DSD: DSD64, DSD128 (.iso&.dsf & .dff); APE(Fast): 192 kHz/24 bit; APE(Normal): 96 kHz/24 bit; APE (High): 96 kHz/24 bit; FLAC: 192 kHz/24 bit; AIFF: 192 kHz/24 bit; WAV: 192 kHz/64 bit; WMA Lossless: 96 kHz/24 bit; Apple Lossless: 192 kHz/24 bit;
Lossy compression: MP2、MP3、AAC、ALAC、WMA、OGG…
Prezzo di listino: € 300
Produttore: FIIO
4,82 €
3,99 €
COMPATIBILITÀ HDMI UNIVERSALE: Questo cavo HDMI 4K è compatibile con i tuoi lettori Blu-ray, amplificatore AV, Playstation PS5, PS4, PS3, XBox one, Xbox 360, Mi TV BOX, decoder TNT, Raspberry PI 3, NVIDIA Shield TV, Freebox, Livebox, i videoproiettor...
read more
(a partire da 2 Dicembre 2022 06:57 GMT +01:00 - Altre informazioni

Product prices and availability are accurate as of the date/time indicated and are subject to change. Any price and availability information displayed on [relevant Amazon Site(s), as applicable] at the time of purchase will apply to the purchase of this product.

)