Il Luxman EQ-500 è uscito la prima volta nel 2001; da tempo fuori produzione, questo straordinario pre-phono torna ora in una nuova versione a valvole.
Basato su due trasformatori step-up per canale, il pre-phono Luxman EQ-500 è adatto anche a testine MC ad alta o a bassa uscita, oltre che a testine MM.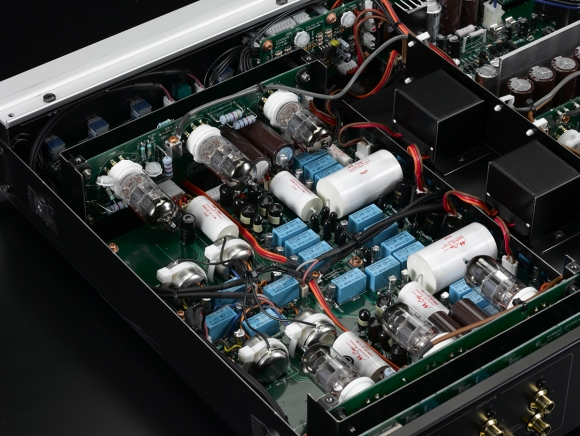 Rispetto alla sua prima uscita del 2001, che a sua volta era una rielaborazione del modello E-06 del 1980, il preamplificatore (tornato sul mercato per il rinnovato vigore delle vendite dei giradischi) è ora a valvole, diversamente dalla sua prima versione che era a stato solido.
Le valvole sono montate in dual-triodo e sono due ECC83/12AX7, una EZ81 e una ECC82/12AU7.
Ampie le possibilità di collegamento: 3 ingressi sbilanciati, 2 uscite sbilanciate 1 una bilanciata.
In realtà la casa madre definisce il Luxman EQ-500 come un "phono equalizer amplifier" in grado di offrire la più esaltante esperienza di riproduzione in campo analogico.
Il Luxman EQ-500 si pone come il nuovo punto di riferimento nel suo campo ed è un pre-phono di peso sia fisico (oltre 12 kg) e sia economico (il prezzo italiano sarà superiore ai 5.000 euro).

Caratteristiche pre-phono a valvole Luxman EQ-500
Circuiting system SRPP
Non-feedback CR type equalizer
Vacuum tube used ECC83 x 4 pieces, ECC82 x 2 pieces, and EZ81 x 1 piece
Input sensitivity: MM: 4mV(1kHz, When the gain is set to 36d8), MC: high 0.44mV, MC: low 0.1BmV
Input impedance: MM: 30k0 to 100k0 (variable), MC: high 400, MC: low 2.50
Rated output/output impedance 250mV/ 850Ω
Gain (1kHz, When the gain is set to 36d8): MM: 36dB, MC: high 55dB, MC: low 63dB
Maximum allowable input (1kHz): MM: 300mV, MC: high 34mV, MC: low 13mV
RIAA deviation : MM/MC high/ MC low: 20Hz to 20kHz (±0.3dB)
Channel separation (10kHz) 65dB
Input Unbalanced line x 3
Output Unbalanced line x 2, Balanced line x 1
Power supply 230V-(50Hz) / 115V-(60Hz)
Power consumption 47W
Dimensions 440(W) x 92(H) x 397(D)mm front side knob of 5mm and rear side terminal of 12mm included in depth
Net weight 12.5kg
Amazon Auto Links: No products found.
Amazon Auto Links: Could not resolve the given unit type, . Please be sure to update the auto-insert definition if you have deleted the unit.