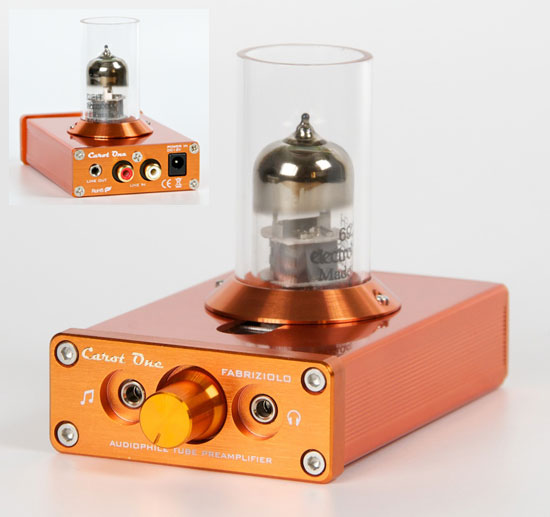 Carot One FABRIZIOLO: preamplificatore valvolare, amplificatore per cuffia. Dal design Fashion (di colore arancio metallescente) con delle misure molto piccole che ne fanno il preamplificatore a valvolare più piccolo del mondo!!! Solo 65mm x 25mm x 98mm!!!
Con ingresso IPHONE/MP3 e CUFFIA sul pannello anteriore e sul pannello posteriore un ingresso LINEA (CD) e un uscita per amplificatorie finale di potenza.
Ideale complemento per Cuffia,IPOD/MP3. Oppure da collegare a diffusori amplificati. Ottimo per un audio eccellente dal PC.
Prestazioni audio spettacolari!!! € 190,00 incluso spese spedizione a destinazione
Specifiche Tecniche
Signal-to-Noise Ratio: (SNR) 92dB
Power Output: 3.0 Watts per channel on 33 Ohm Headphone
Frequency response: 15 Hz – 100 kHz -1db
Input Impedance: 10k Ohms
Input Audio: CD IN RCA (Left/Right) x 1 [3Vpp max.]
Specification of the Pre Amplifier Unit
Vacuum Tube: 6DJ8/6922 series or 12AU7 series (exchangeable)
Signal-to-Noise Ratio (SNR): 92dB
THD + Noise: 0.05% @ 10k ohm 0.15% @ 33 ohm
Input Audio: CD IN RCA (Left/Right) x 1 [3Vpp max.]
Power Socket: (5.5mm/2.1mm) x 1
Output Audio: OUT 3.5mm x 1
Headphone: OUT (3.5mm) x 1
Knob Audio and power switch x 1
Power Indicator: (Blue LED under Tube Socket) x1 Volume Knob x 1
Power Supply DC 12V-13V (max.)
Dimensions (W)76mm x (H)60mm x (D)100mm – 11 –
Specification of the AC Adaptor
AC Input Universal: AC 100V-240V/50-60Hz
DC Output: DC 12V 3.5A (42W)
DC Plug: DC 2.1mm
Ripple & Noise: <= 25mV
Over-load Protection: 105%-150%
Over-voltage Protection: 115%-150%
Dimensions (L)78mm x (W)50mm x (H)33mm
Distributore: OPENITEM
Amazon Auto Links: No products found.