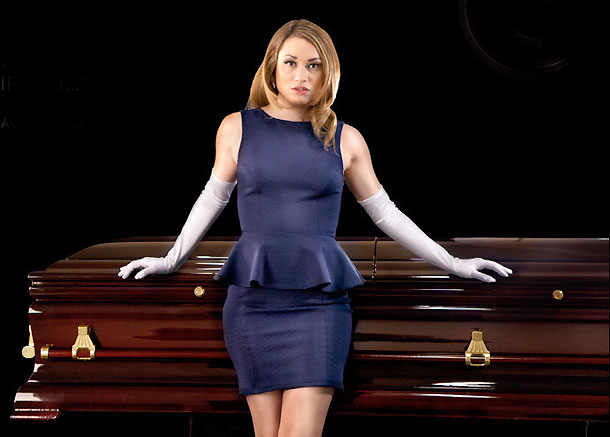 Dalla Svezia un marchio ancora non distribuito in Italia, CataCombo Sound System, che produce CataCoffin, una bara che è un vero e proprio sistema stereo completo, dotato di server. Solo per defunti che nella loro vita furono comprovati audiofili incalliti.
Anche da defunti si può continuare ad ascoltare musica attraverso un eccellente impianto hi-fi. È stata l'idea della società svedese Play, che ha pensato bene di non trascurare questo target.
CataCombo Sound System CataCoffin è la bara ideale per chi non vuole rinunciare alla qualità audio, nemmeno dopo morto. E, infatti, il defunto non solo può disporre di vari legni e colori, ma di un signor impianto 2.1 amplificato e customizzabile, composto da una coppia di diffusori più subwoofer e server musicale travestito da lapide (si chiama CataTomb).
Questo server, oltre a fornire l'alimentazione a tutto l'impianto, è dotato di disco rigido, processore Intel da 2,5 GHz e Wireless 4G, che, tramite l'applicazione CataPlay, si connette a Spotify.
In tal modo le persone più vicine al defunto potranno gestire online le playlist da riprodurre. CataCombo Sound System CataCoffin si può avere a partire  da 23.500 euro. Se volete, prima dell'acquisto, potete farvi chiudere dentro, per sentire come suona.
Caratteristiche tecniche del sistema stereo CataCombo Sound System CataCoffin
CataCoffin
Two-way front speakers
4-inch midbass drivers
Wide range tweeter with external cooling
8-inch sub bass element
Custom built 2.1 amplifier
T-class stereo amplifier
Tripath Class-T Digital Power Processing™ Technology
SP Output R+L (4 ohm): 2x15W
Output (8 Ohm): 2x10W
Sub bass amplifier 50W RMS with SP output 80/120W
Frequency range: 22Hz-20kHz
Signal/noise ratio: >98dB signal
Acoustic absorption factor αp= 0,65-0,95
CataTomb
Performance-upgradeable music server
7-inch TFT-screen
2,5 GHz Intel Core processor
4 GB 1600 MHz HDD
Wireless 4G internet connection
CataPlay
Access to million of tracks
Collaborative playlists
Produttore: CATACOMBO SOUND SYSTEM
Amazon Auto Links: No products found.
Amazon Auto Links: Could not resolve the given unit type, . Please be sure to update the auto-insert definition if you have deleted the unit.