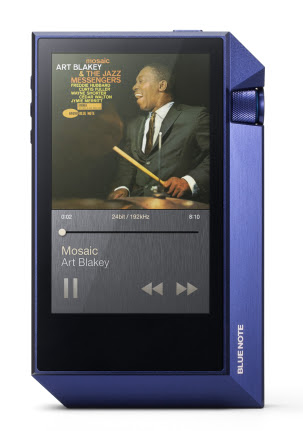 La Blue Note è l'etichetta discografica che ha pubblicato tantissimi capolavori della storia del jazz. Alcuni sono stati già re-masterizzati ad alta risoluzione, altri lo sono ora per la prima volta in questa imperdibile, limitatissima (e costosa) raccolta.
Del player portatile Hi-Res Audio Astell&Kern AK240 non ci siamo ancora occupati (ma scrivemmo del suo "fratellino", l'AK100). Ora il produttore ha deciso di celebrare i 75 anni di attività della Blue Note con un cofanetto limitato.
Scegli il tuo player portatile al prezzo più conveniente
Si tratta dei 75 album più significativi del catalogo della casa discografica americana, ognuno presentato in MQS digital audio ad alta risoluzione (24/192) e immagazzinato in una micro-SD (supporto di storaggio supportato dal player Aster & Kern AK240.
Il cofanetto è in edizione limitata a sole 1.000 unità e presenta 5 dischi per la prima volta in alta risoluzione, ovvero: Art Blakey & The Jazz Messengers' 'Mosaic', Tina Brooks' 'True Blue', Don Cherry's 'Complete Communion', Andrew Hill's 'Point Of Departure', e Bobby Hutcherson's 'Components'.
Ma tra i 75 titoli ci sono perle come le session del 1947 di Thelonious Monk e il raro Liquid Spirit di Gregory Porter.
Ogni album è alloggiato in una micro-SD con case acrilico e con l'artwork originale dell'album e tutti i 75 album sono già precaricati sul player portatile che – in quest'occasione ancora di più – è l'oggetto del desiderio di tantissimi audiofili.
Produttore: ASTELL&KERN