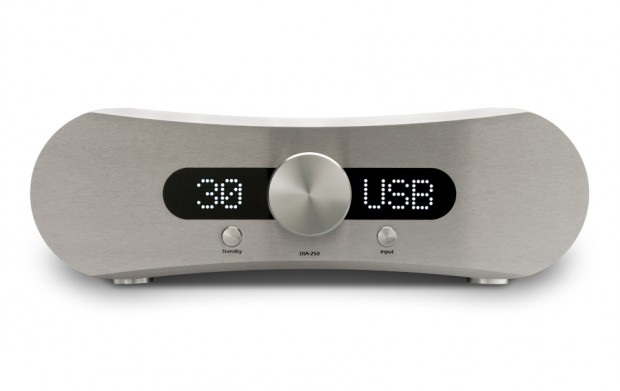 Anche il produttore danese cede al fascino degli amplificatori digitali con DAC integrato, ma lo fa a modo suo, ovvero senza compromessi, col Gato Audio DIA-250.
Il Gato Audio DIA-250 è un campione di connettività e qualità soniche. Il digitale è entrato a gamba tesa (anche) nel mondo degli audiofili e non si può non tenerne conto. Se alle opportunità offerte dai bit aggiungiamo anche la possibilità di continuare ad usare apparecchiature d'annata come il giradischi, fianco a fianco con la musica liquida… abbiamo fatto bingo! Oppure ci stiamo riferendo al neonato della casa danese.
Segli il tuo amplificatore con DAC integrato
Piccolo, compatto, elegante, il Gato Audio DIA-250 ha al suo interno un amplificatore in Classe D con uno stadio di alimentazione dedicato e ottimizzato, basato su una tecnologia che definiscono International Rectifier, espressamente pensata per lavorare con precisione ad alte frequenze in caso di modulazione PWM. Lavora con un coppia di switch a transistor di precisione a MOS-FET. La potenza erogata arriva a 250 watt per canale su 4 ohm.
All'interno troviamo un DAC di classe HiEnd, con un'alimentazione dedicata e basato sul celebre Burr-Brown PCM1794, capace di risoluzioni fino a 24 bit e 192 kHz.
Per chi è già in possesso di un amplificatore (o casse amplificate) e vuole usare il DIA-250 solo come pre evoluto con convertitore, è presente una uscita line-out apposita.
Le possibilità di connettività non potrebbero essere più complete e un'immagine vale più di mille parole: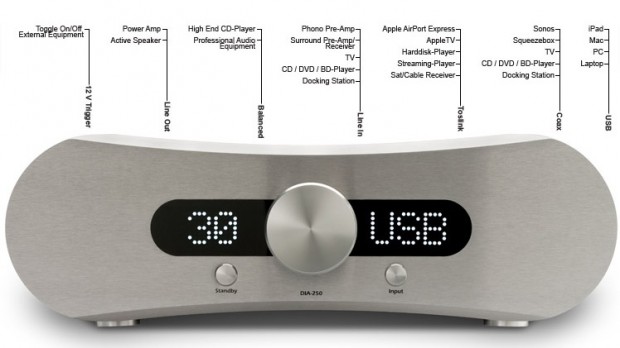 Caratteristiche tecniche amplificatore con DAC Gato Audio DIA-250
Output power: 2 x 250 W / 8 Ω – 2 x 500 W / 4 Ω
Frequency response: 20 Hz ÷ 20 kHz –0.5 dB, and 2 Hz ÷ 70 kHz –3 dB
Total Harmonic Distortion: <0.01% at rated power
Signal to noise ratio: <102 dB
Line out maximum level: 13 V balanced, 6.5 V unbalanced
Total Harmonic Distortion: <0.001% pre out
Input impedance: 20 kΩ RCA or 40 kΩ Balanced
Line output impedance: 75 Ω
Voltage gain: 26 dB (+10 dB headroom)
Recommended speaker load: 4-16 Ω
Prezzo di listino: 2.450 euro
Produttore: GATO AUDIO
Amazon Auto Links: No products found.
Amazon Auto Links: Could not resolve the given unit type, . Please be sure to update the auto-insert definition if you have deleted the unit.