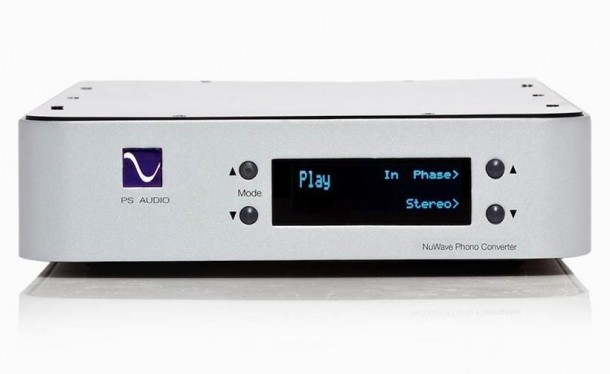 Non possiamo dire con certezza se il PS Audio NuWave Phono Converter sia un apparecchio del tutto inedito, ma se non lo è … poco ci manca. Si tratta di un pre phono che non disdegna la musica liquida, in PCM o DSD.
PS Audio NuWave Phono Converter si presenta al pubblico come un apparecchio di nuova categoria e di classe HiEnd (e quanto alla categorizzazione… anche noi abbiamo avuto difficoltà su come collocarlo). Combina un preamplificatore phono senza compromessi a un convertitore DSD e PCM, per unire il meglio dei due mondi, l'analogico e il digitale.
Finiti infatti (per sempre?) e tempi in cui gli audiofili partigiani "tifavano" a spada tratta i solchi del vinile o i bit della musica liquida, ora finalmente i due mondi si uniscono e gli appassionati hanno imparato a prendersi il meglio da entrambe le tecnologie.
Tornando a noi, il PS Audio NuWave Phono Converter accetta segnali in ingresso da qualsiasi tipo di giradischi, ma anche da altre sorgenti analogiche; e ovviamente da sorgenti digitali, iPod compreso.
Significa che possiamo collegarvi un sintonizzatore o – come già detto – un giradischi, e scegliere se uscire verso il nostro amplificatore integrato o pre, oppure scegliere di usare le sue multiple uscite digitali asincrone da mandare direttamente a un DAC esterno.
Il PS Audio NuWave Phono Converter può anche essere connesso a un computer e usato per trasformare file digitali in DSD, o stream analogici in PCM a 24 bit e 192 khz. In pratica, aiuta a costruire una libreria digitale partendo dalla nostra collezione di vinili mediante la sua unità di conversione analogico-digitale! Ciliegina sulla torta: le uscite bilanciate.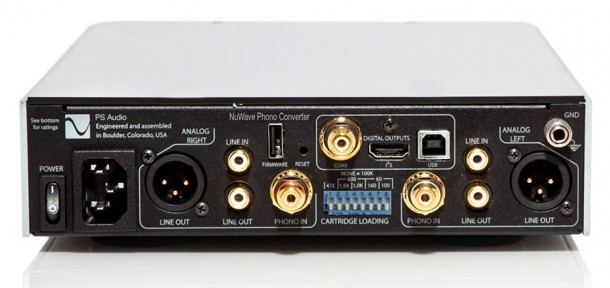 Caratteristiche tecniche PS Audio NuWave Phono Converter
High resolution balanced or single ended analog outputs
High resolution asynchronous DSD and PCM outputs
1 stereo analog input from any source such as a tuner
1 stereo phono input
Accepts low output moving coil cartridges (0.3 mv)
Moving magnet cartridges
Passive RIAA curve
Resistive cartridge load selector
Mono or stereo select
100% pure analog path for the phono stage
Gain select from the front panel
Asynchronous digital output to 192 kHz 24 bit
Asynchronous DSD output at 64X and 128X
Polarity invert function
XLR, RCA analog outputs
S/PDIF, I2S, USB digital outputs
80 kHz bandwidth on A/D Converter
Incoming A/D sample rate 352.8 kHz
DoP protocols for DSD
Massive power supply
Front panel OLED display
RIP to either Mac or PC in DSD or PCM
Build a library of your vinyl, tape or from radio broadcasts
Record live events or even studio work without compromise
Play live into any DAC with DSD or PCM
Prezzo di listino: 1.850 dollari americani
Produttore: PS AUDIO
Amazon Auto Links: No products found.
Amazon Auto Links: Could not resolve the given unit type, . Please be sure to update the auto-insert definition if you have deleted the unit.