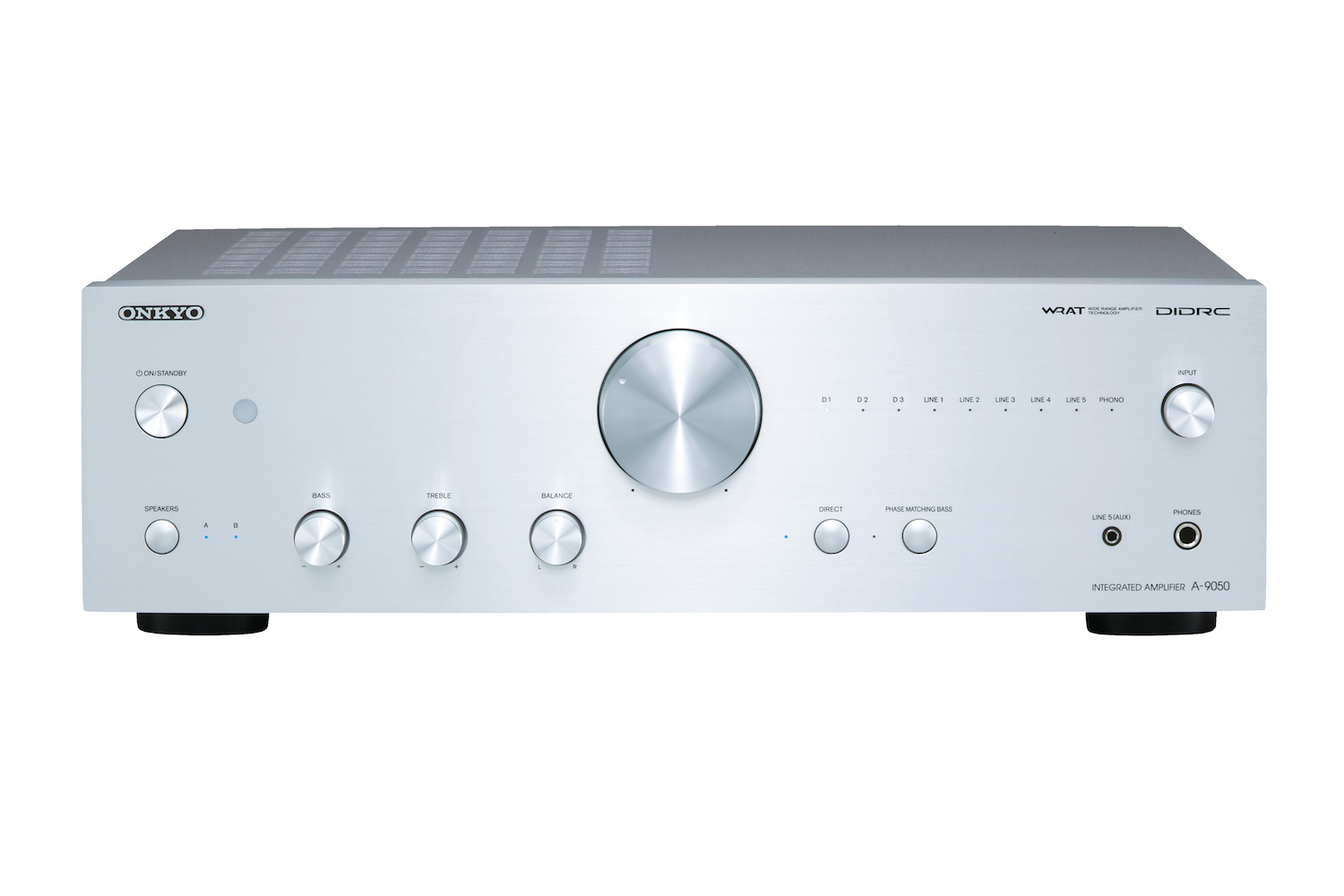 L'amplificatore integrato con DAC Onkyo A-9050 arricchisce l'offerta della linea entry-level del produttore giapponese. Tanta qualità e versatilità a un prezzo per tutte le tasche.
I modelli 9010 e 9030 sono dei best-seller planetari. Ed ora ecco l'amplificatore integrato con DAC Onkyo A-9050, un passo in avanti in più per novizi dell'HiFI o per un secondo impianto, ma senza rinunciare a nulla quanto a qualità e versatilità.
Stiamo parlando di un amplificatore con connessioni davvero complete: ingressi linea, ingresso phono MM, ingressi digitali (2 Coax, 1 Toslink), line-out e uscita sub.
Gli ingressi digitali insistono su un non recentissimo ma sempre valido DAC Wolfson 8718 capace di decodificare i file PCM fino a 24 bit e 192 kHz.
A livello circuitale, l'Onkyo A-9050 sfoggia l'integrazione con le tecnologie WRAT (Wide Range Amplifier Technology, in pratica un'applicazione Onkyo del negative feedback) e DIDRC (Dynamic Intermodulation Distortion Reduction Circuitry, in altre parole un circuito per l'eliminazione del rumore digitale), oltre a una innovativa concezione circuitale a 3 stage Darlington.
L'idea di base è di offrire il meglio dei domini analogico e digitale, senza strafare ma allo stesso tempo lasciando pienamente soddisfatti.
Ci sono alcune sofisticatezze costruttive difficile da trovare nella categoria amplificatori entry level, come ad esempio i terminali placcato in oro sia per le prese RCA e sia per i plug a banana per le casse acustiche.
E c'è anche tanta riserva di potenza: 75 watt per canale su 8 Ω e – manco a dirlo – il telecomando in dotazione.

35,99 €
Impermeabile IPX7: L'altoparlante Bluetooth impermeabile Lrecat è resistente a schizzi, pioggia, spruzzi delicati, Idrorepellente è adatto a tutte le tue attività all'aperto e al chiuso: home theatre, feste, escursioni, nuoto, spiaggia, campeggio ecc...
read more
(a partire da 3 Dicembre 2021 20:38 GMT +01:00 - Altre informazioni

Product prices and availability are accurate as of the date/time indicated and are subject to change. Any price and availability information displayed on [relevant Amazon Site(s), as applicable] at the time of purchase will apply to the purchase of this product.

)
8,99 €
Universal Compatibility - Perfectly compatible with any devices with a 3.5mm aux port. Such as Headphones, Apple iPod iPhone iPad, Echo Dot, Tablet, Laptop, Hi-Fi or Car Stereos, Smartphones, MP3 Player and any other audio-playing devices, excluding ...
read more
(a partire da 3 Dicembre 2021 20:38 GMT +01:00 - Altre informazioni

Product prices and availability are accurate as of the date/time indicated and are subject to change. Any price and availability information displayed on [relevant Amazon Site(s), as applicable] at the time of purchase will apply to the purchase of this product.

)