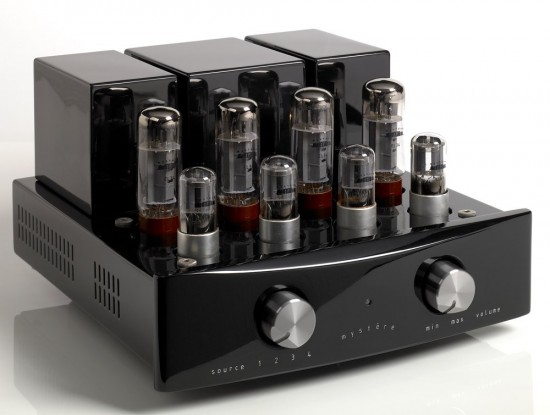 Uno chassis  completamente ventilato e di generoso spessore; uso di materiali di qualità senza badare a spese; otto valvole ben protette; design suadente; trasformatore di generose dimensioni: è l'amplificatore integrato a valvole Mystère Concept IA 11.
Anche l'interno è coerente con la filosofia i questo progetto, che insegue la qualità senza badare a compromessi: il Mystère Concept IA 11 è cablato punto-a-punto con materiali di pregio, i condensatori di accoppiamento sono in propilene e le resistenze usate sono di tipo a basso rumore.  I semiconduttori utilizzati in questo ampli olandese (costruito in Cina) sono in puro rame, a completare una costruzione estremamente pulita e in cui nulla è lasciato al caso.
I 40 watt RMS del Mystère Concept IA 11 suonano in maniera assai più robusta di quanto i meri numeri lascino presagire. Il progetto è di tipo push-pull a pentodo e usa le valvole drive 6SN7 e le valvole di potenza EL-34, famose per la loro dinamica. Naturalmente le EL-34 sono facilmente sostituibili dall'utente per adattarsi ai suoi gusti e alle sue esigenze audiofile.
L'amplificazione è di tipo Dual Mono Adaptive e con circuito di autobias, che regola automaticamente ogni valvola eliminandone eventuali punti deboli.
Il controllo del volume è del tipo in uso generalmente su amplificatori ben più costosi di questo, ovvero basato su un attenutaore a 24 step.
La recensione di TechRadar evidenzia, tra l'altro, le generali buone caratteristiche soniche di questo amplificatore, comunque un po' carente sui bassi.
Caratteristiche tecniche amplificatore integrato a valvole Mystère Concept IA 11
Potenza: 40 W x 2 @ 8 Ohm 1%thd
Risposta in frequenza: 4 Hz ÷ 80 kHz ±0,3 dB @ 1W; 20 Hz ÷ 52 kHz ±1 dB @ 40 w
Rumore: <–90 dB wtd-A
Guadagno: 30 dB (31.1x) @ max volume
Distorsione: 0,05% @ 1 W; 0,4% @ 10 W; 1% @ full power 40 w
Peso: 20,5 kg
Produttore: MYSTERE
Distributore: AUDIO REFERENCE
Amazon Auto Links: No products found.
Amazon Auto Links: Could not resolve the given unit type, . Please be sure to update the auto-insert definition if you have deleted the unit.