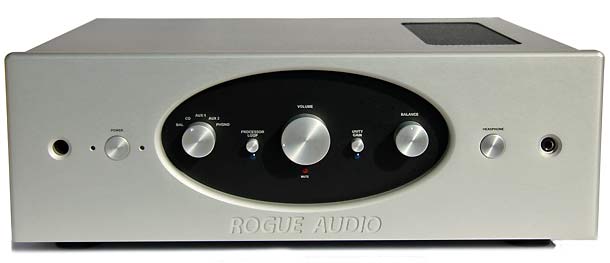 Lo sviluppo dell'amplificatore Rogue Audio Pharaoh si è posto come obiettivo primario la realizzazione di un amplificatore integrato che, senza compromessi, fosse stato in grado di offrire la performance delle migliori amplificazioni a due telai.
L'amplificatore Pharaoh è il fiore all'occhiello di Rogue Audio e combina in un unico solido telaio amplificazione di potenza allo stato solido e preamplificazione a tubi, per fornire una dinamica sorprendente che solo un amplificatore a valvole in grado di fornire.
Oltre ad una notevole qualità sonica il Pharaoh vanta numerose funzionalità, tra cui un'amplificatore a tubo per cuffia, un preamplificatore Phono MM/MC a guadagno regolabile, home theater bypass e volume controllato a distanza tramite telecomando.
La sezione preamplificatore utilizza una coppia di 12AU7 configurate in  mu-follower e condensatori di accoppiamento ad olio, per assicurare un segnale audio senza alterazioni durante questa fase critica di amplificazione.
Un generoso alimentatore lineare è impiegato per fornire energia alla sezione di potenza allo stato solido, un progettato sviluppato intorno ai moduli Hypex OEM, che forniscono alta potenza e alta dinamica.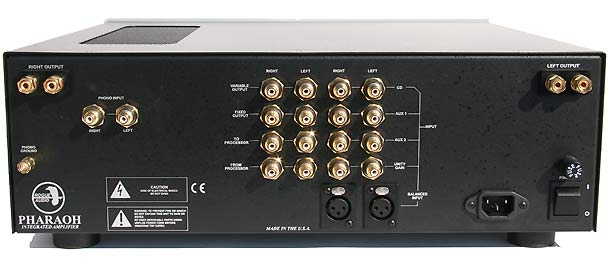 Caratteristiche generali amplificatore integrato Rogue Audio Pharaoh
185 WPC/8 ohms 350WPC/4 ohms
Pure tube mu-follower preamplifier
Slow start turn on sequencing
Green design with extremely low power consumption
Damping factor >1000
Discrete tube based headphone amplifer
Balanced XLR inputs, three line level inputs, one phono input
MM/MC phono w/40/60 dB gain
Adjustable phono loading
Massive high storage linear (!) power supply
Mundorf EVO oil coupling caps
Ultra high quality components throughout
39 pounds/45 pounds shipping weight
18.25″ wide x 18″ deep (including posts and knobs) 6.5″ high
Fully tested, burned-in, and auditioned
Detachable IEC power cord
Entirely designed and hand built in the USA
3 year limited warranty (6 months on tubes)
Produttore: ROGUE AUDIO
Amazon Auto Links: No products found.
Amazon Auto Links: Could not resolve the given unit type, . Please be sure to update the auto-insert definition if you have deleted the unit.