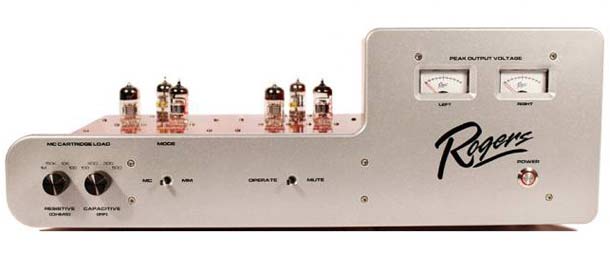 Il pre-phono Rogers High Fidelity PA-1A è un dual-mono, Classe-A, interamente valvolare, leader nel rapporto segnale/rumore e viene presentato come un prodotto "state-of -the- art".
"Chi non ha mai ascoltato la sua collezione di dischi analogici con il Rogers High Fidelity PA-1A si è perso la metà della qualità sonora analogica di un vinile". Così esordiscono in casa Rogers per presentare il loro pre-phono.
Noi riportiamo sinteticamente alcune caratteristiche generali, come gli ingressi selezionabili per fonorivelatori MM e MC, controlli sul pannello frontale per impostare i valori resistivo e capacitivo di carico a seconda del fonorivelatore impiegato, due VU-meter (uno per ogni canale) per una diagnosi rapida e relativa risoluzione di eventuali squilibri tra i due canali del fonorivelatore, circuito di soft-start e auto bias per garantire una lunga durata del tubo, interruttore mute per regolare il braccio del giradischi senza la necessità di ridurre il volume dell'amplificatore o mettere il sistema in stand-by.
Caratteristiche tecniche pre-phono Rogers High Fidelity PA-1A
Frequency Response: ±0.1 dB deviation from the RIAA curve, 10 Hz to 20 kHz
Gain: 50 dB- 65 dB selectable thru input tube selection, both 12AU7 and 12AX7 supplied
Input Impedance: Moving Magnet 47 Kohm, Moving Coil transformer input with front panel selectable cartridge loading. 100 ohm – 1 Mohm, 100 pF- 500 pF
Input: Jacks unbalanced RCA
Output Impedance: 1 Kohm – 1 Mohm
Output: Jacks unbalanced RCA
Noise Floor: 0.1 microvolt, input referenced, A-weightedand un-shorted
Signal to Noise Ratio: 95 dB at 20 mV input
Channel Isolation: 75 dB minimum
Tube Compliment: 2 x 12AU7 or 12AX7 (user selectable, both supplied), 2 x 12AX7, 2 x 6GH8
Front Panel Controls: MC cartridge loading, MM or MC mode select, Mute switch
Produttore: ROGERS HIGH FIDELITY
Amazon Auto Links: No products found.
Amazon Auto Links: Could not resolve the given unit type, . Please be sure to update the auto-insert definition if you have deleted the unit.