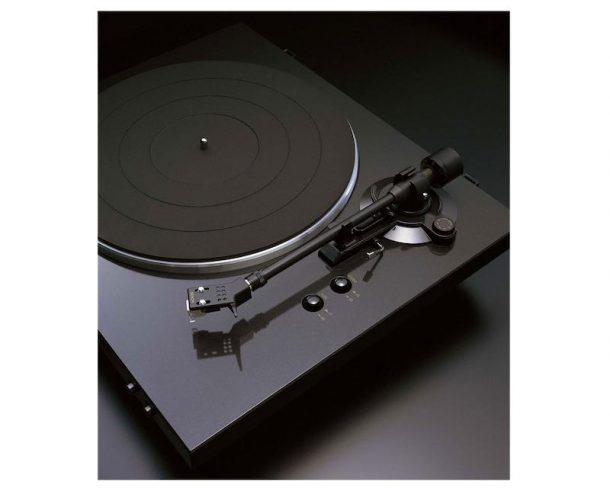 Il Denon DP-300F è un giradischi automatico, pensato per semplificare la vita dell'audiofilo. Buone prestazioni al prezzo giusto per iniziare.
Il settore dei giradischi sta vivendo una fase felice, complice la seconda gioventù dei vinili. Nell'arena degli apparecchi per i nuovi audiofili entra anche il Denon DP-300F.
Si tratta di un giradischi automatico, ovvero inizia la riproduzione da solo alla pressione di un solo tasto e al termine il braccio torna al suo posto. Ovviamente, è previsto anche l'uso in modalità manuale.
A proposito del braccio. Il Denon DP-300F ne monta uno di tipo dritto e con una headshell removibile, in modo da rendere decisamente più semplice la sostituzione del fonorivelatore.
La testina, per inciso, è fornita in dotazione e – prevedibilmente dato il budget richiesto – sostituirla con qualcosa di più performante rende immediatamente il Denon DP-300F fonte di gioia e soddisfazioni insospettate.
La base è in pesante e realizzata con un sistema anti-vibrazioni.
Il piatto è in alluminio pressofuso, a completamento di un servo motore DC con sistema di trasmissione a cinghia; a detta del produttore, la rotazione sarà in questo modo assolutamente uniforme.
Ma non è tutto. Proprio nell'ottica entry level (o semplicemente dedicato ai nuovi audiofili), il giradischi Denon DP-300F ha un pre-phono integrato e quindi può essere collegato direttamente anche agli amplificatori che non hanno un ingresso dedicato.
Concludendo, il giradischi Denon DP-300F non ha nulla di miracoloso, è semplicemente un buon prodotto, pronto immediatamente all'uso, venduto a un prezzo giusto che ne dovrebbe garantire il successo anche e soprattutto a chi ha scarsa esperienza con tarature, settaggi e altre attività che fanno la gioia degli audiofili più navigati, ma che spaventano i newbies.
Amazon Auto Links: No products found.
Amazon Auto Links: Could not resolve the given unit type, . Please be sure to update the auto-insert definition if you have deleted the unit.