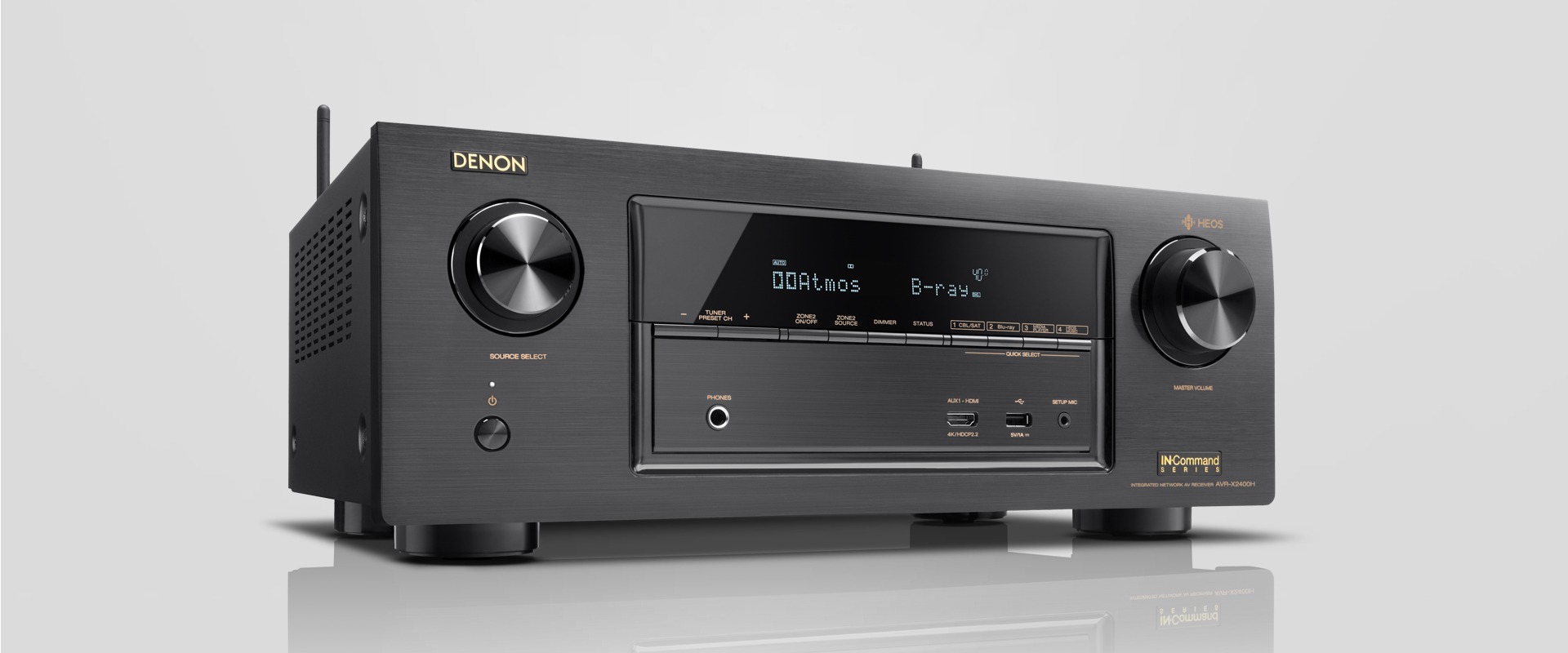 Il Denon AVR-X2400H è un amplificatore home theater con funzioni avanzate anche per l'ascolto solo stereo, multi-room, streaming e DSD compresi.
Denon e Marantz ormai fanno parte dello stesso gruppo industriale, per cui non vi stupide di vedere la compatibilità per i sistemi multi-room HEOS su amplificatori di entrambi i marchi.
Chiarito questo, eccoci oggi alle prese con l'amplificatore AV Denon AVR-X2400H, che come ormai in uso nella maggior parte dei suoi colleghi integra funzioni avanzate sia nell'ascolto muticanale e sia per l'ascolto solo stereo.
Sul fronte puramente audio-video troviamo tutto il necessario per stare al passo con i tempi: codifiche degli standard ad oggetti come Dolby Atmos e DTS:X, ma anche supporto al 4K, video HDR10, HLG e Dolby Vision (e se queste sigle non vi sono familiari, approfittate del percorso di link che vi proponiamo per approfondire).
Sul fronte solo stereo, invece, troviamo servizi di streaming (fra gli altri: Spotify, Tidal, Deezer, TuneIn), network player e DAC interno anche con decodifica DSD, oltre al già citato multi-room wireless.
Il Denon AVR-X2400H arriva come evoluzione del modello AVR-X2300H, ormai disponibile in rete a un prezzo stracciato; rispetto al suo predecessore, il modello di quest'anno va a rifinire l'impatto degli effetti boom crash (le botte che arrivano al subwoofer durante le esplosioni dei film) e aggiunge un maggior dettaglio ai dialoghi, ma non ne stravolge la timbrica e la dinamica, conservandone l'ottima impostazione.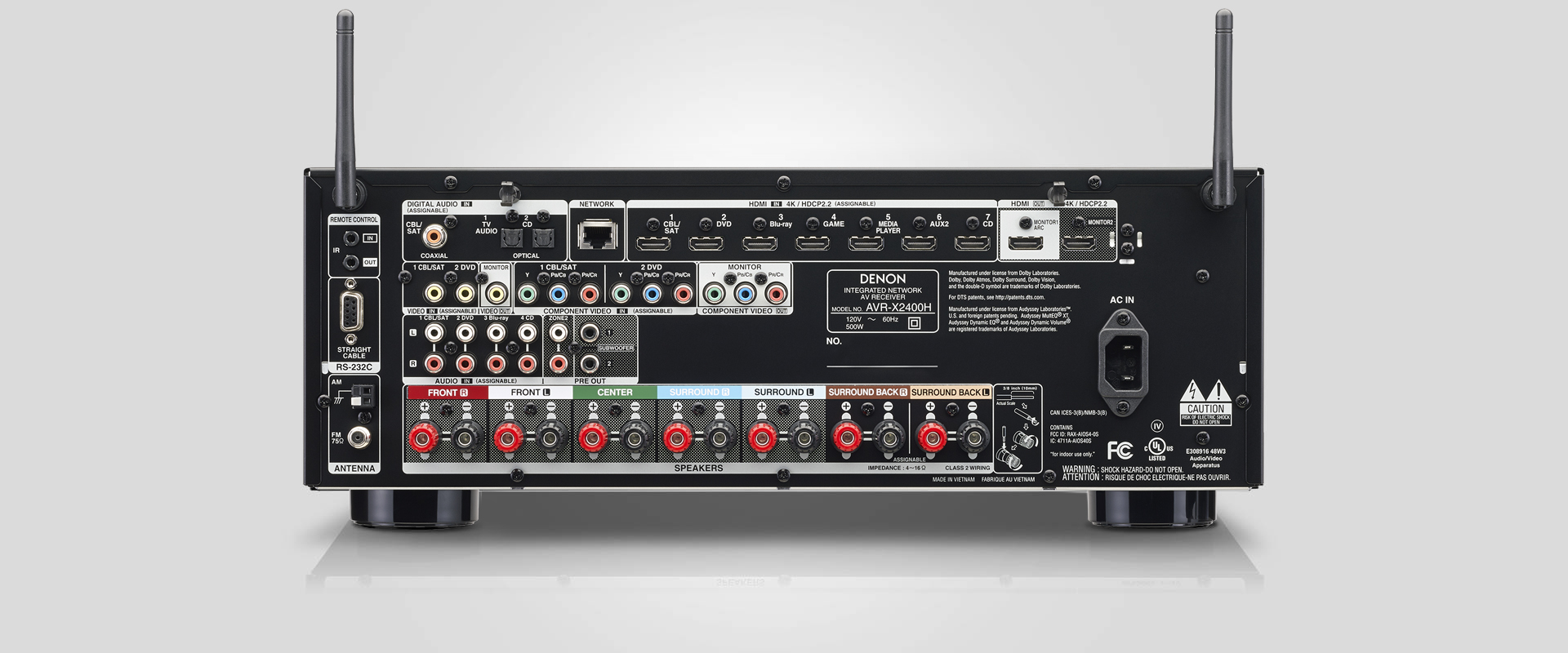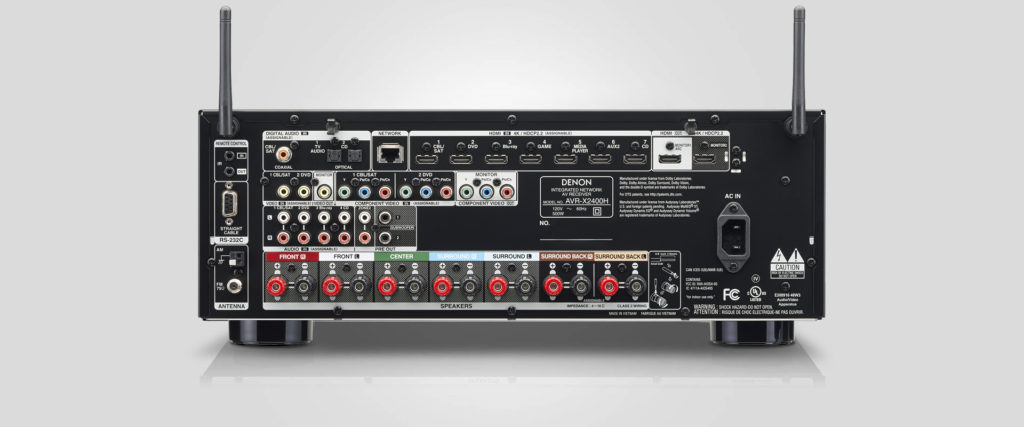 8 ingressi HDMI, 2 Toslink, 1 Coax, USB, ingressi analogici, AirPlay, WiFi e Bluetooh: al questo amplificatore si può collegare davvero di tutto.
Nessun problema per la configurazione dell'impianto, ci aiuta il collaudatissimo Audyssey MultEQ XT; e se vogliamo cimentarci con la correzione acustica ambientale (digitale) c'è a disposizione l'Audyssey MultEQ Editor App.
In una fascia di prezzo tradizionalmente molto affollata (meno di 1.000 euro), con 95 watt su 8 Ω per ognuno dei 7 canali, il Denon AVR-X2400H dovrebbe far star tranquillo qualsiasi audiofilo che abbia il suo impianto in un normale ambiente domestico e si pone come uno dei migliori amplificatore AV (se non il migliore) per rapporto qualità / prezzo.
8,99 €
Universal Compatibility - Perfectly compatible with any devices with a 3.5mm aux port. Such as Headphones, Apple iPod iPhone iPad, Echo Dot, Tablet, Laptop, Hi-Fi or Car Stereos, Smartphones, MP3 Player and any other audio-playing devices, excluding ...
read more
(a partire da 1 Dicembre 2021 20:35 GMT +01:00 - Altre informazioni

Product prices and availability are accurate as of the date/time indicated and are subject to change. Any price and availability information displayed on [relevant Amazon Site(s), as applicable] at the time of purchase will apply to the purchase of this product.

)