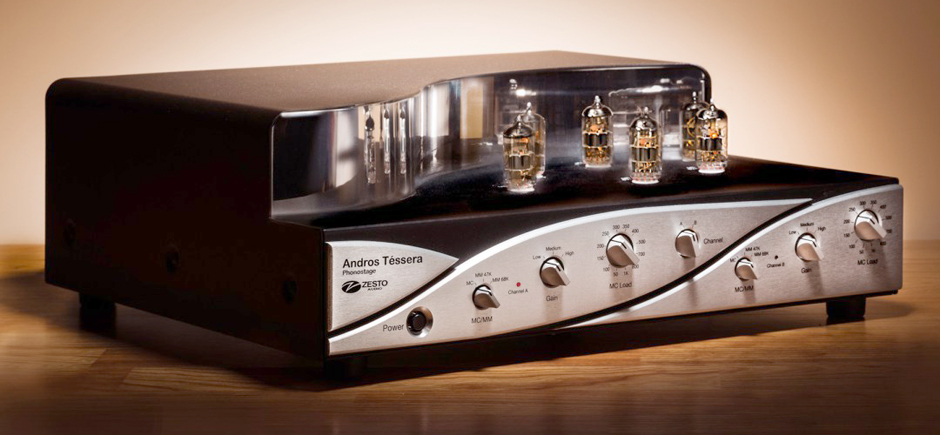 Zesto Audio Andros Téssera è un pre phono al quale si possono collegare contemporaneamente 4 giradischi a 1 braccio, oppure 2 a 2 bracci, o 1 a 3 bracci più 1 a 1 braccio, o ancora 2 a 2 bracci.
Non è per giocare coi numeri, ma questo pre phono Zesto Audio Andros Téssera è un "signor" pre phono valvolare (12.000 dollari), non solo perché accetta tutti questi bracci, ma anche per le numerose possibilità di regolazione, come il guadagno (basso, medio , alto), il carico resistivo e capacitivo in ingresso in funzione dei valori ottimali richiesti dalla testina con, ovviamente, la possibilità di usare testine MM (magnete mobile) e MC (bobina mobile). E l'alimentazione è separata.
Molti appassionati di vinile possiedono due o più bracci montati su un singolo giradischi, o, addirittura, due giradischi, ciascuno con due bracci. Il nuovo preamplificatore phono a tubi di Andrés Téssera di Zesto Audio mira proprio a questo segmento di mercato.

Gli ingressi MC sono dotati di trasformatori Jensen di prima classe e la curva RIAA, è precisa di ±0,5 dB. Sul pannello posteriore ingressi e uscite montano connettori RCA e XLR (bilanciati), più due connettori di massa. All'interno vengono utilizzati sia il cablaggio point-to-point, sia a circuito stampato.
Il circuito del pre phono Zesto Audio Andros Téssera è ispirato a quelli descritti per la prima volta negli RCA Radiotron Designer's Handbooks degli anni '30, '40 e '50. Ci sono sei tubi: due coppie di triodi trifase 12AX7 / ECC83S e una coppia di 12AU7 che alimentano trasformatori di uscita di alta qualità, per produrre una bassa impedenza di uscita (150 ohm).
I tubi forniti sono provvisti di piedini placcati in oro di costruzione JJ Electronics in Slovacchia e sono innestati su zoccoli di alta qualità con contatti dorati. Non ci sono dispositivi a stato solido nel percorso del segnale. Inoltre, vengono utilizzati solo condensatori in polipropilene e resistenze all'1% a film metallici.

L'alimentazione, come anticipato, è esterna, grande quasi quanto il preamplificatore. Secondo George Counnas, designer di Andros Téssera e presidente di Zesto Audio, è questo l'elemento dove risiede tutto il rumore. Quindi, andrebbe disposto il più lontano possibile dall'unità principale (il pre), a cui viene collegato con uno speciale cavo  a soppressione di RFI da 3 metri. Questo cavo conduce solo corrente continua ed è terminato con un connettore a molla.
Tutte le commutazioni del pre phono Zesto Audio Andros Téssera avvengono tramite relè, costruiti per sopravvivere a milioni di scatti, una durata più lunga di una vita. L'Andros Téssera è fatto a mano negli Stati Uniti, viene rodato per 50 ore prima della spedizione ed è fornito di garanzia per di due anni (sei mesi sui tubi).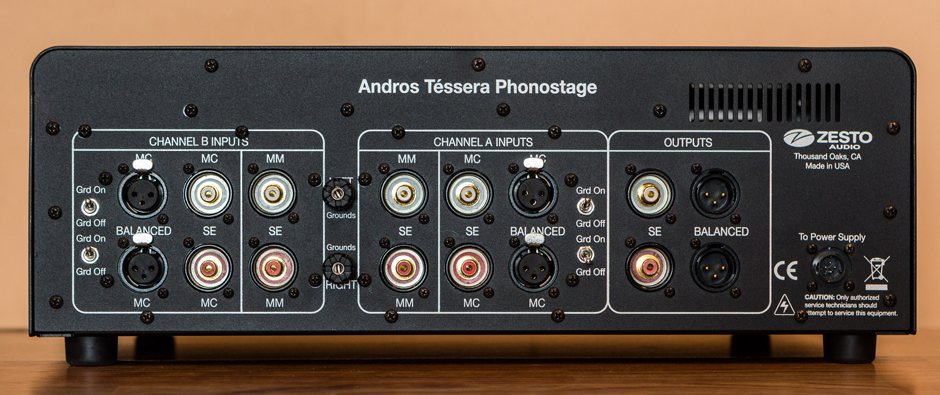 Caratteristiche tecniche preamplificatore phono Zesto Audio Andros Téssera
Inputs per Channel
Two completely independent dual mono channels, A and B with LED indicator
Accommodates 4 tonearms, 2 per channel
Separate MM and MC inputs per channel
Each channel has independent controls and all selections are saved when you switch between channels
Selection switch for MC and 2 position MM 47 K and MM 68 K
MM impedance switch 47 K or 68 K Ohms
MM capacitance 220 pf
MC transformer Balanced gold plated XLR input
MM and MC Single Ended RCA input, gold plated with isolated ground
4 MC ground on/off switch
12 position MC load impedance: 1000, 800, 700, 500, 400, 350, 300, 250, 200, 150, 100, 50 Ohms
4 Superior quality MC Internal step up transformers
3 position MC gain switch for High, Medium & Low output cartridges
Two ground binding posts
Outputs per channel
High quality output transformers driven by dedicated 12AU7/ECC82 output tubes
True floating ground, transformer Balanced XLR gold plated outputs
Single Ended gold plated RCA output, with isolated ground
Impedance 150 Ohms
+8 V max output level
Active Components
Four (4) Gold pin JJ ECC83S/12AX7 vacuum tubes with high quality gold pin ceramic sockets
Two (2) Gold pin JJ ECC82/12AU7 vacuum tubes with high quality gold pin ceramic sockets
Power
Dual chassis
Power supply with 3 meter DC umbilical cable incorporating special RFI suppression
Locking bayonet connector rated for higher voltage and higher current
3 internal linear regulated power supplies, 1 high voltage 250 V and 2 low voltage 12 V
Power supply dual color LED, yellow for standby and red for ON
Main unit push ON/OFF front power switch illuminates a red LED on Channel A or B
Power supply standby switch on the front
Power supply standby power rating 7 Watts
Power consumption 52 Watts
Standard 3 pin 15A IEC power connector on power supply
Voltage 110/120 V AC 60 Hz
Optional factory installed 220 V or 230/240 V AC 50/60 Hz
Detailed Specifications
3 position Gain switch
MC input 60 dB, 65 dB and 70 dB or MM input 40 dB, 45 dB and 50 dB
Noise –90 dBu below max output level
Frequency response complies with the original RIAA curve within + or –0.5 dB
RIAA curve is achieved using a passive filter
1% metal film resisters throughout
Polypropylene capacitors throughout the audio path
All analog tube circuitry with no solid state devices in the signal path
Other Features
Controls on the front
"Made in the USA" using US and imported parts
Each unit is built by hand
50 hour factory burn in on all circuits and vacuum tubes
Dimensions main chassis 17″ W x 15″ D x 5.5″ H, Power Supply 17" W x 8" D x 5" H
Weight: Main uni 11.34 Kg, Power supply 7.7 Kg
Shipping weight 24 Kg, box 20″ x 20″ x 20″
16 gauge zinc plated steel enclosure
Two year limited warranty
Six months warranty on Vacuum Tubes
Produttore: ZESTO AUDIO
Auto Amazon Links: Nessun prodotto trovato.