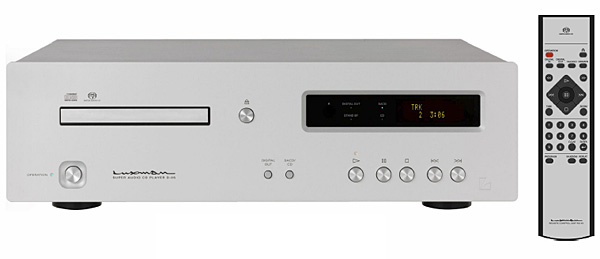 Il Luxman D-05 fa parte della terza serie della rinascita del produttore giapponese. Legge CD e SACD e all'interno ha un convertitore d'eccellenza. La meccanica? È proprietaria di casa Luxman.
La serie D di Luxman fa sospirare di desiderio più di un audiofilo. E fra l'elenco c'è anche il lettore CD e SACD Luxman D-05, con la sua robusta meccanica LxTDM, sviluppata in casa dal produttore del Sol Levante. È comparsa la prima volta nel 2008 sul modello D-08. È realizzata in una speciale lega di alluminio che garantisce una eccezionale rigidità e assenza di vibrazioni. Da allora è la punta di diamante dei lettori di questa azienda. Il LxDTM prevede un posizionamento asimmetrico (a sinistra del pannello frontale), col vantaggio di lasciare più spazio alle circuitazioni analogiche e digitali
Ben due i convertitori montati a bordo, uno per ogni canale, i prestigiosi Burr Brown 1792A, capaci di una dinamica di 138 dB e perfettamente a loro agio sia con i segnali multi-bit sia con quelli single bit tipici del SuperAudioCD. Il DAC in uso nel D-05 accetta segnali in ingresso anche da altre sorgenti (un ingresso coassiale e un ingresso ottico, ma nessun USB), massimizzando l'investimento. Collegato al DAC c'è un apposito circuito di riduzione del jitter, ovvero un clock  da70 x 10-12 sec. o meno, circa 1/100 (un centesimo) rispetto alla maggiorparte dei concorrenti.
Ma ci sono anche circuitazioni digitali in uso nei top di gamma e circuitazioni analogiche direttamente derivate da quelle in uso negli amplificatori della stessa azienda.
Ciliegina sulla torta, a fianco ai pin jack RCA da 18 mm trovano posto anche le uscite XLR.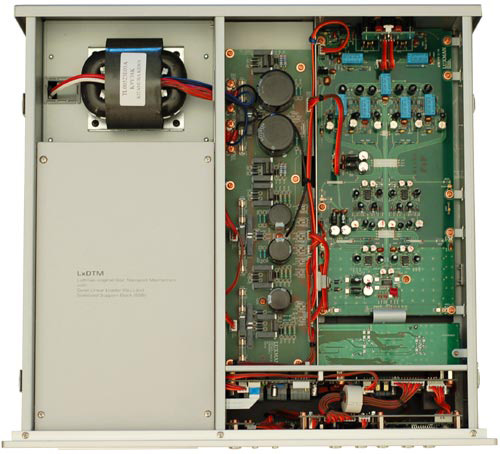 Caratteristiche tecniche lettore CD e SACD Luxman D-05
Applicable disk 2-channel SACD, CD
Analog audio output 1 x unbalanced line,
1 x balanced line
Digital audio output 1 system for coaxial line
1 system for optical line (TOS-LINK)

output impedance: unbalanced 2.5 V/300 Ω, 

balanced 2.5 V/600 Ω
Frequency response CD: 5 Hz ÷ 20 kHz (–3.0 dB), SACD 5 Hz ÷ 50 kHz (–3.0 dB)
Total harmonic distortion rate: 0.0014 % (for CD), 0.0017 % (for SACD)
S/N ratio: 12 0dB (for CD), 104 dB (for SACD)
Power consumption: 20 W (Electrical Appliance and Material Safety Law), 1W (at standby)
Outside dimensions: 440 (W) x 133 (H) x 410 (D) mm, (terminals and knobs excluded)
Weight 15.5 kg
Prezzo di listino: € 4.900,00
Produttore: LUXMAN
I lettori SuperAudioCD al miglior prezzo
Amazon Auto Links: No products found.
Amazon Auto Links: Could not resolve the given unit type, . Please be sure to update the auto-insert definition if you have deleted the unit.