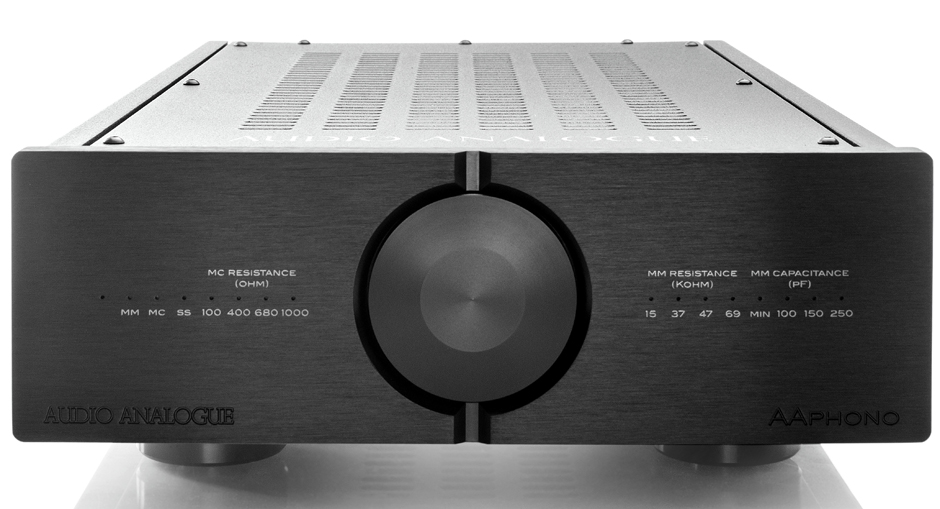 Il nuovo pre phono Audio Analogue AAphono è completamente configurabile, per testine MM e MC, rivelandosi altamente versatile.
Audio Analogue si presenta con la sua nuova linea "PureAA", caratterizzata da una serie di funzionalità aggiuntive.
La linea PureAA è stata progettata per piacere agli amanti della musica che cercano una gamma più ampia di funzioni e connessioni in singolo prodotto.
Il nuovo stadio phono Audio Analogue AAphono è completamente configurabile per le cartucce a magnete mobile (MM) e a bobina mobile (MC) ed offre molte opzioni regolabili, che permettono di adattare perfettamente il suo set-up allo specifico fonorivelatore scelto.
Quando parliamo di set-up intendiamo guadagno e carico per le cartucce MC, ma anche capacità e resistenza d'ingresso per i pick-up MM.
Nonostante questa possibilità di variare il set-up implichi un apparecchio più sofisticato (basta guardare il suo interno), il pre phono Audio Analogue AAphono è facile da usare: basta premere un pulsante per effettuare le regolazioni, che verranno salvate quando l'unità è spenta o addirittura scollegata.
Se volete togliervi la curiosità e guardare dentro, troverete un design notevole: tre trasformatori toroidali, che sono il cuore dell'alimentatore, quindi il cuore dello stadio phono.
È previsto un trasformatore per ciascuno dei canali stereo (sinistro e destro) e, per mantenere il segnale audio il più puro possibile, un terzo per il circuito di controllo. Inoltre, l'alimentazione include più filtri, per garantire che ogni sezione dell'Audio Analogue AAphono si trovi nelle migliori condizioni operative possibili.
Per quanto riguarda l'amplificazione, è divisa tra due livelli di guadagno separati, da un filtro subsonico posizionato tra di loro. In tal modo si impedisce a qualsiasi oscillazione a bassa frequenza di raggiungere, saturare o sovraccaricare la fase di guadagno finale.
Dopo la seconda fase di guadagno, uno speciale blocco per correnti continue, assicura che nessuna di esse possa raggiungere l'amplificatore.
Infine, tutta l'unità pre phono è predisposta allo smorzamento della risonanza e accuratamente rifinita, in linea con i prodotti del marchio Audio Analogue.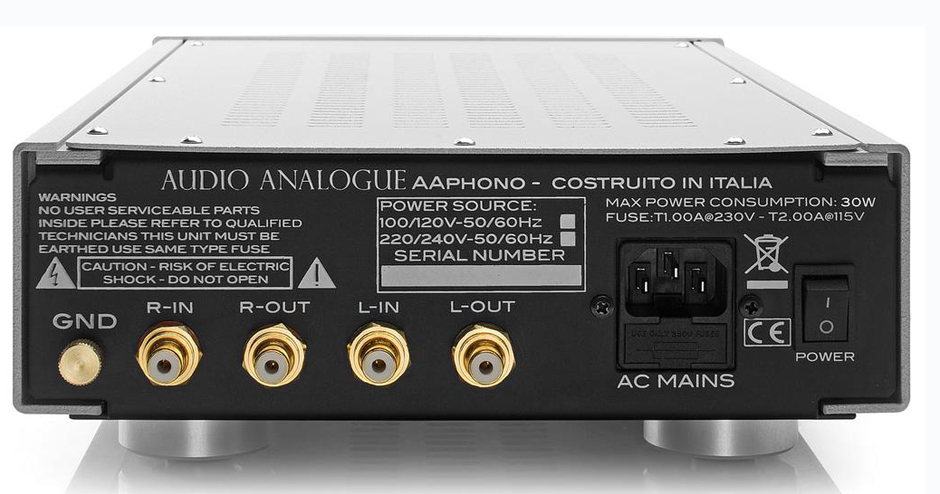 Caratteristiche tecniche pre phono Audio Analogue AAphono
MM gain (@1 KHz): 40 dB
MC gain (@1 KHz): 65 dB
Frequency response (+/–0.25 dB): 10 Hz ÷ 20 KHz
MM signal/noise ratio: 89 dB
MC signal/noise ratio: 72 dB
Standby power consumption (230 VAC): 0.7 W
Dimensions (H x W x D): 87 x 220 x 372 mm
Weight: 5.8 kg
Prezzo: £ 1.599 nella finitura Black o Silver
Produttore: AUDIO ANALOGUE
Amazon Auto Links: No products found.
Amazon Auto Links: Could not resolve the given unit type, . Please be sure to update the auto-insert definition if you have deleted the unit.